'No justification' - SNP and Scottish football fans unite against Tory Government plans to crack down on supporters' buses
Calls for fans to oppose new restrictions set out by UK Government's Senior Traffic Commissioner.
Watch more of our videos on Shots! 
and live on Freeview channel 276
Visit Shots! now
Scottish football fans have joined forces to unite against newly proposed "draconian" travel guidelines set out by the UK Government's Senior Traffic Commissioner which could have a severe knock-on effect for supporters and local communities.
A public consultation has been launched over a series of new proposals that would crack down on travel for supporters' buses heading to away matches across the country.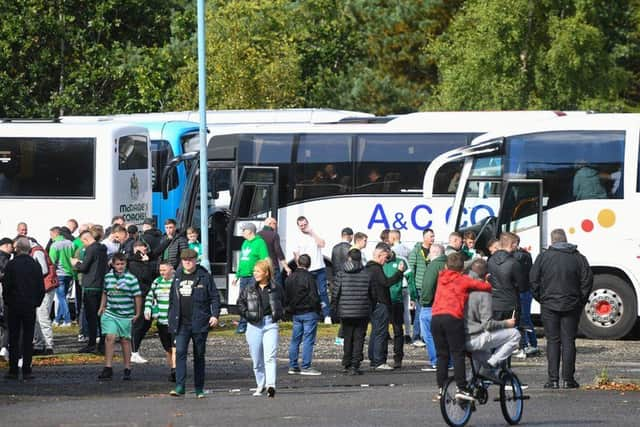 What are the proposed new guidelines?
PSV operators taking bookings from groups of supporters are to notify the relevant Dedicated Football Officer (DFO), at least 48 hours before the event, of the number of supporters expected to travel, the number of vehicles booked, the name and the contact number for the person who made the booking. Once available the operator must also notify the VRM and driver's name to the relevant Dedicated Football Officer.
For the purpose of these guidelines, the relevant Dedicated Football Officer means the DFO for the club that the fans are travelling to support. For example, Livingston are playing a Premiership league game away to Aberdeen. Operator A has been contracted to transport Livingston fans from Bathgate and the relevant DFO is the DFO for Livingston. Operator B has been contracted to carry Aberdeen fans to the game from Arbroath. In this case the relevant DFO is the DFO for Aberdeen.
Vehicles are not to stop within 10 miles of the venue either enroute to, or on departure from the event unless prior agreement is obtained from the relevant Dedicated Football Officer.
Unless directed by a police officer, PSVs may stop at premises where intoxicating liquor is sold only if it is sold ancillary to a substantial meal. Prior agreement for meal stops where alcohol is available should be sought from the operator's relevant Dedicated Football Officer.
PSVs are to arrive at the venue no earlier than two hours before and not later than one hour before the scheduled start of the game, unless otherwise directed by police.
PSVs are not to set down or uplift passengers at any unauthorised locations without prior permission of the police.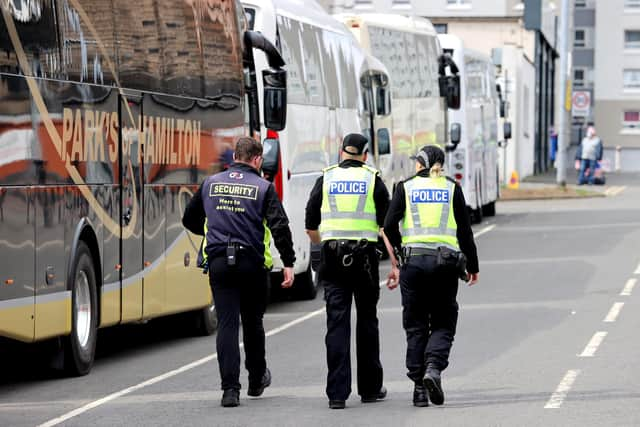 PSVs must leave the venue within 30 minutes of the finish of the event, unless directed otherwise by a police officer or ground safety officer.
PSV operators are to follow all reasonable instruction given by police or enforcement officers at all times. This includes, but is not limited to, routing and stopping arrangements.
Intoxicating liquor, flares and similar pyrotechnics, must not be carried on PSVs travelling to or from designated grounds. Operators will draw hirers' attention to the requirements of the law, and drivers shall, as far as reasonably practical, supervise boarding passengers and check that they are not obviously carrying intoxicating alcohol, flares and similar pyrotechnics. Drivers will not be expected to carry out baggage or body searches, nor will they be expected to confiscate alcohol or to remove passengers without police assistance. Operators may add a condition of entry to the PSV that a voluntary search may be undertaken.
PSV operators are to notify the Dedicated Football Officer at the destination upon arrival at an away football ground, of any chanting demonstrating hostility based on race, ethnicity religion or beliefs, sexual orientation, disability, and transgender identity or chanting of an otherwise grossly offensive or inflammatory nature which had taken place during the journey to the ground.
PSV operators are to have established safeguarding policies when carrying persons under the age of 18 years old. This is to include arrangements for the nomination of at least one responsible adult for the minors carried.
Derek Watson, director of Motherwell-owning fan group The Well Society, shared the guidelines on his Twitter account and the findings sparked a major backlash from football fans across Scotland, who are unanimously against the proposed changes.
He said: "The proposals are unfair. I would like to say that I am surprised, but I am not. I am angry and disappointed. There are a number of things I would object to. The guidelines would make it more difficult for supporters on a match day.
"It will discourage people from using supporters' buses. So more people will use their cars and put more vehicles on the road during the time of a climate crisis."
Labour shadow Scotland Secretary Ian Murray, who previously chaired the Foundation of Hearts supporters' group, admitted there was "no justification" for the guidelines, adding: "In my experience of travelling to away matches the bus convenors and bus operators have always been responsible about who travels and where to.
"There's no justification for such draconian rules that are trying to fix a problem that doesn't exist. I would encourage the football authorities, clubs and supporters groups to come together and oppose this nonsense."
Kenny Hamilton, who runs a supporters' bus for St Mirren fans from the Tile Bar in Paisley commented: "The proposals are diabolical. It's impossible to be at the ground an hour before the kick-off, what are you going to do during that time?
"In England you can have a pint in the stadium before the match, but in Scotland we don't have the facilities. It will put supporters' buses out of business because people will drive to matches instead."
Scottish Greens sports spokesperson Gillian Mackay, stated: "These proposals are unwarranted, unworkable and out of touch. The extra work and hurdles created could make it prohibitive for sports fans to travel to Scotland.
"The knock-on effect for small businesses could also be significant. Pubs and restaurants near football stadiums and other sporting venues rely heavily on passing trade on match-days. In a cost-of-living crisis we should be creating opportunities for traders, not putting them under further pressure.
"We need to be working with sports clubs and supporter groups to ensure great days out for fans. These proposals need to be given the red card."