Furious Spain midfielder Rodri launched a scathing assessement of Scotland by accusing Steve Clarke's side of playing 'rubbish football' and 'time wasting' after being outclassed and outfought during a heroic night at Hampden Park.
The Spaniards, who had lost only seven of their 146 European and World Cup qualifying matches, were guilty of play-acting in the first-half with full-back Pedro Porro and striker Joselu going to ground far too easily. However, bitter Manchester City midfielder claims it was Scotland who were guilty of threatrics in his post-match interview.
Speaking on ViaplaySport last night, Rodri said: "When you lose, you're always disappointed. But I. think we did many good things to win. In the end, we conceded easy goals and if you do that in football you get penalised.
"It's the way they play. In the end, for me, it's a bit rubbish because they are always wasting time. They, how do you say, provoke you, They always fall and for me this is not football.
"For the speed of the sport you have to move on, but the referee has to take part of this and he'll say nothing. It's a bit frustrating because we want to win and it's difficult because you waste time. It is what it is, we have to use our weapons and we will learn for the next time."
When interviewer Connie McLaughlin put to Rodri that Scotland fans would share the same view about Spain in terms of how they reacted to certain challenges, he responded: "We want to go into those battles. We always fight but this is not about fighting. It's about wasting time, it's about for or five players on the floor, these kind of situations. This depends on the referees, not us."
Reaction:
Former Scotland and Rangers striker Kris Boyd told SkySports: "I hope Pep's (Guardiola) got some new dummies ready for Rodri when he gets back to Manchester City because he certainly spat them out last night.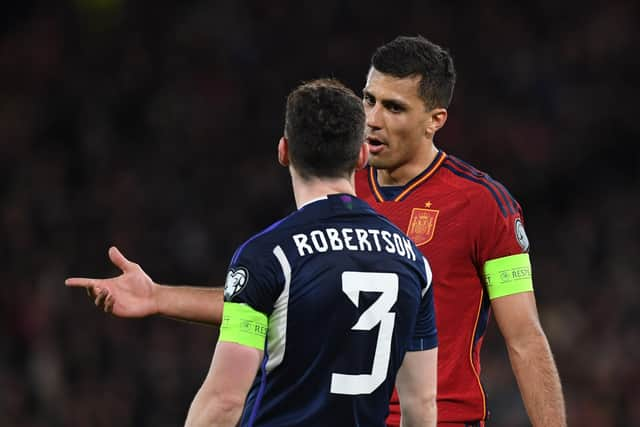 "I think it shows you how far Scotland have came under Steve Clarke because when you've got top nations like Spain turning up and making excuses in terms of persistent fouling. I get the fact that they're disappointed they've lost the game but Scotland were deserved winners. It wasn't a fluke.
"If you go toe-to-toe with nations that have invested that style of passing football then you're going to get beat. So you need to find a way to overcome what they're very good at. Steve Clarke set the team up unbelievably well, as he has done since he started the job. Scotland are in a good place, we've toppled one of the big nations, we're top of the group and there's no reason why we can't qualify for major competitions on a regular basis. That's how far Scotland have came."
Ally McCoist felt Rodri showed a lack of class with his outburst. He told ViaplaySports: "He's a good player but he can cope with the physical side of the game no bother so the irony of him talking about the physicality of Scotland is not lost on me. Our lads played very, very well. Joselu went down, he was the one that went down, feigned injury and tried to get a penalty.
"Listen, sometimes you've just got to hold your hands up and say congratulations to the other team. He's a class player on it, I just think he could've showed a bit more class off it tonight."
Former Scotland boss Alex McLeish reckons Spain should accept that the better team won and give more credit to Scotland. He stated: "Come on, get a grip guys. Eat the humble pie and say the better team won on the night. They'll be urgently looking to get to the game in Spain to make up for it and that's the way football goes. Spain should just eat that pie and get on with it."