With International football taking centre stage this week, Rangers fans will still be treated to their football fix after the club confirmed the matchday squads for the upcoming Weekend of Legends II clash that will take place at Ibrox on Sunday, March 26.
The Light Blues, who will be managed by Alex McLeish once again, will feature a number of the club's best-known players, including the likes of Saša Papac, Lorenzo Amaruso, Michael Mols, Ronald de Boer, Jorg Albertz and Jermain Defoe, while the World XI line-up will be bossed by Robbie Fowler and include star-studded global icons such as Jaap Stam, Paul Scholes, Emmanuel Petit and Robin van Persie.
Former Ibrox hero Barry Ferguson will captain the Gers squad for the second annual 'Match of Legends' 12 months on from the first event to be staged as part of Rangers 150th anniversary celebrations. The World Legends ran out 3-2 winners on that occasion and matches featuring great of the past have become a firm fixture in recent years, proving hugely popular with fans.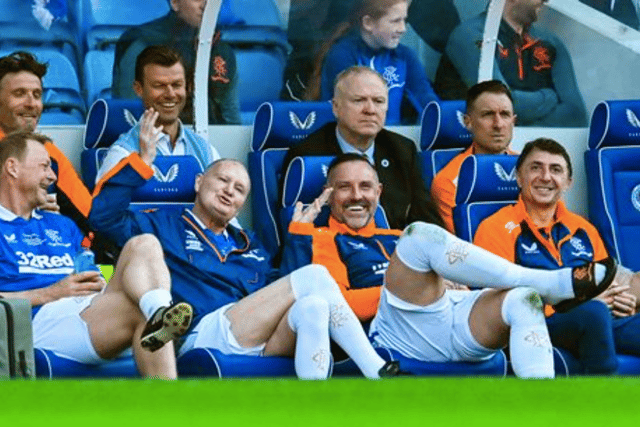 Ex-Scotland international Ferguson is relishing another brilliant experience as he prepares to lead his side out once again. He said: "I am really looking forward to it, it can't come quick enough. Obviously, we had one last March, it is just great to see all your ex-teammates and talk about old stories, and it was round about the 40,000 mark that turned up. It was a brilliant day and one that I loved, and I know the boys loved as well.
"I have seen the World XI; they are a young team, so we need to make sure we are ready because the last couple of games we have not managed to win so we need to start winning. It is a great couple of days that we can go and spend and share memories, and obviously play a game of football in front of the fans.
"I know from my point of view it was a dream for me to play at Ibrox and in front of 50,000 fans, and it was the same for the ex-players, whether it would be British players or foreign. They loved the experience and last March brought that back."
Dutch icon Jaap Stam can't wait to return to Glasgow. He stated: "It's always nice to play in these legends games. Going to Glasgow is a little bit special for me because I haven't been there a lot but I know Rangers have had a lot of Dutch people involved with the club, which gives me a bit of a connection with them as well. I'm looking forward to getting out on the pitch again, playing in front of a large crowd and seeing the city. It will be a great event to be a part of."
The match won't be broadcast live on television. However, Rangers TV are expected to stream the event. Last year's match was available on pay-per-view for £5.99.
Rangers Legends squad:
World Legends squad:
Tickets are priced at £18 for adults and £13 for concessions. Junior Season Ticket Holders and Junior MyGers Members can purchase a ticket for £1. You can purchase tickets here. The match is scheduled to kick-off at 2pm.