Scott McTominay has been touted with a move to Rangers this summer but the Manchester United midfielder has been deemed 'not good enough' to sign for Celtic by ex-Red Devils star Paul Parker.
The 26-year-old emerged through the youth system at Old Trafford before establishing himself in the first-team but the Scotland international is now facing a big decision over his future at the end of the season after sliding down the pecking order under new manager Erik ten Hag.
McTominay's performances over the last 18 months have been heavily criticised by secionts of the United support and the January arrival of Casimero from Real Madrid has left him limited to appearances off the bench in recent months.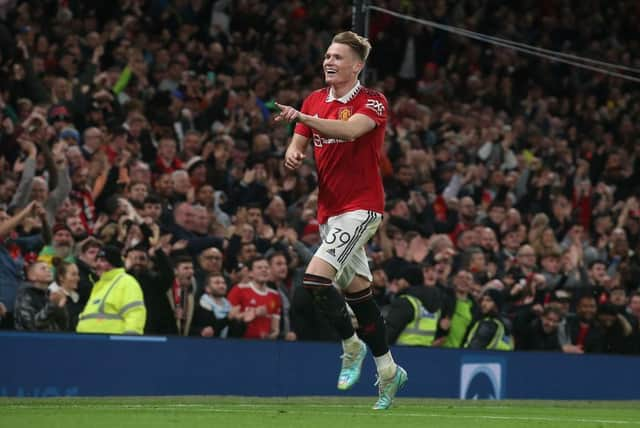 With his Manchester United career now seemingly at a crossroads, McTominay, who was replaced at half-time in his most recent start during the FA victory over West Ham could decide to seek a move elsewhere in search of regular game time. The defensive midfielder has been linked with a switch to big-spending Newcastle United with boss Eddie Howe reportedly an admirer of the player.
However, former Reds defender Paul Parker reckons he won't be able to stay in the English Premier League and would favour McTominay moving to the Scottish Premiership to help reignite his career. Parker believes he could prove to be a success story for Rangers, but doesn't think he has what it takes to star for Ange Postecoglou's Celtic side.
Speaking to MyBettingSites, Parker said: "Scott McTominay has to move away from Man United in the summer. He wants to stay in the Premier League but it's going to be tough for him to find a new club. He is not good enough to play for a top side and the smaller clubs can´t pay his wages.
"But of course he can't continue at Man United. Maybe he feels confident just sitting on the bench but that is a lack of ambition. Man United don't want a player that is comfortable with being on the bench. They want players that work hard to get into the starting lineup and not just be satisfied with playing at the biggest club in the world.
"I think it could be a possibility for him to go to Rangers. He is not good enough to play for Celtic. There is no way he would be able to play regularly for Celtic in the way they play. He will have a better chance of playing if he moves to Rangers.
"But it's a big decision for him to leave Man United. But he has to do it because right now he is also playing jeopardy with his spot in the national team. He can be a sub for Man United but if he got anything about himself he wants to play as many games as possible.
"Right now his career isn't something to write about and he needs to show that he is hungry enough to get a decent career. I expect that he wants to leave Man United to show that he is a good player."