The 44-year-old whistler made three hugely controversial decisions in the match. The first saw him award the home side a penalty in the first-half when James Brown was adjudged to have handled in the area, with the ball appearing to strike the full-back on the arm after a deflection off of Connor Goldson from close range.
Before the break, Nicky Clark was shown a straight red card for a high challenge on Ryan Jack. Following a lengthy delay, Collum eventually dismissed the Saints striker before further controversy ensued moments later when an furious Jack raced into a tackle on Adam Montgomery and seemed to catch the Celtic loanee on his ankle.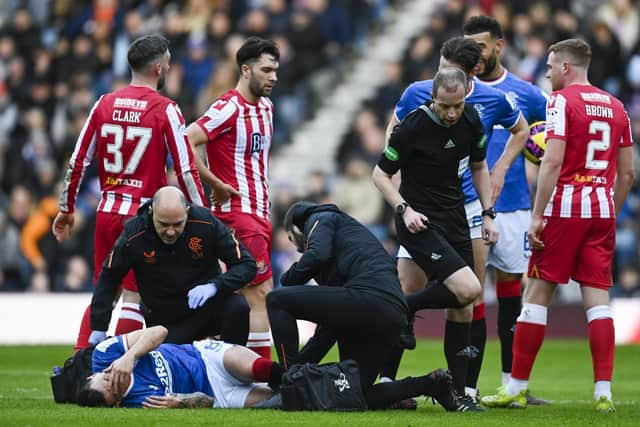 Collum handed the midfielder a caution before he was asked to look at the pitchside VAR monitor by Nick Walsh to review the challenge. After seeking a second opinion, he decided to stick by his original decision to the dismay of Saints boss Callum Davidson, who also received a yellow card for his protests.
In the aftermath, Roache has slammed Collum's display and reckons he got all three decision incorrect.
He told Grosvenor Sport: "The penalty call was wrong in my view. James Brown couldn't possibly get out of the way when the ball hit his arm. It was never a red card when Nicky Clark challenged Ryan Jack – and Jack should have been sent off for his challenge on Adam Montgomery. So there were three mistakes.
"Everyone can have a bad day at the office – a player or a referee – but when you continue to have bad days then what happens? Do the SFA continue to appoint him?
"I think it is time he's held accountable, and that's up to the SFA and the referee's committee. They have to decide what games he gets now.
"If it was me, I would take myself out of the equation. His best days are behind him. As I say, if I was making as many highlighted errors, I would take myself out of the limelight."