Golf It! hosts new young players from 14 Glasgow-based schools through education programme
Kids from St Roch's and Barmulloch were on site at Golf It! on Thursday celebrating their participation and enjoying the facilities.
Watch more of our videos on Shots! 
and live on Freeview channel 276
Visit Shots! now
4000 primary school children have participated in the first year of the programme pioneered by Golf It! with 14 primary schools given the opportunity to participate in curriculum and after school activities.
Pupils from St Roch's and Barmulloch were thrilled to explore the facilities at Golf It! and particularly Park Golf, a re-imagined game based on pitch and putt with larger holes, balls and modified plastic clubs designed to make the game accessible to all.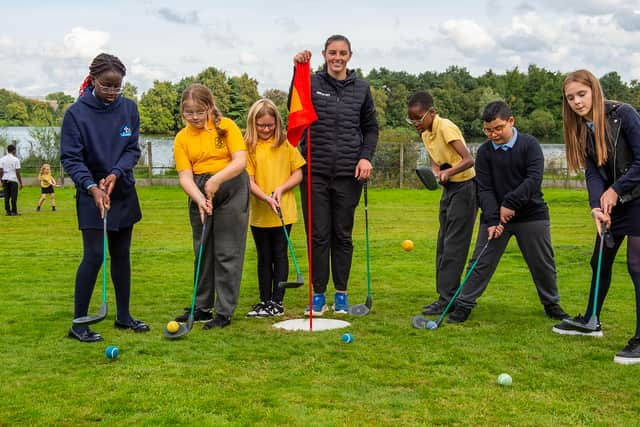 The Golf It! Education Programme focuses on delivering golf activities, where pupils can learn new or improve their basic skills all of which is incorporated into their school sports offering. As part of the programme, each school receives two bags of Golfway equipment which is used during their sessions and teachers also receive a training course to ensure the continued progression of golf after the curricular period.
And each child who takes part receives a special membership which allows them to play Park Golf whenever they want, free of charge, to encourage them to continue engaging with the sport.
Golf It! General Manager Russell Smith said: "We have designed an exciting programme that is giving children the opportunity to try golf in a fun and engaging way. In many cases unless there's a family member that's into the sport, many kids just don't really get that introduction to golf or even the opportunity to try it.
"That is what we are all about at Golf It! We want to make golf accessible to everyone of every age – but it starts with kids and giving them the chance to try golf for themselves, firstly at school and then by joining us at our venue in Hogganfield Park.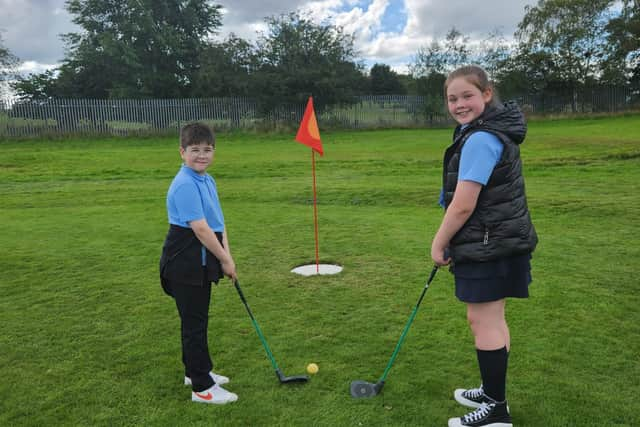 "This week is about celebrating the first steps in our education programme, which has been a massive success and eclipsed our goals already under the leadership of our head of golf Alyson. We're thrilled by the response from local kids and the fact so many of them have come to Golf It! to pursue an interest in the game after taking part in the programme.
"Our Schools Festival this week is about celebrating that and sharing the joy we hope these kids are finding in playing golf with their friends and seeing it is a game for them and for everyone."
The team at Golf It! worked with key stakeholders in Glasgow City Council to recruit three modern apprentices from Active Schools to help deliver the schools programme and after schools activities. Coaching and educating teachers/volunteers on how to run activities and use the golf equipment to continue the sessions has been a key part of the handover once schools have completed the programme.
So far 21 teachers and five volunteers have all successfully completed the training and over 100 sports leaders have helped deliver this week's festival – the leaders are S5 and S6 pupils from local high schools who want to pursue careers in sports.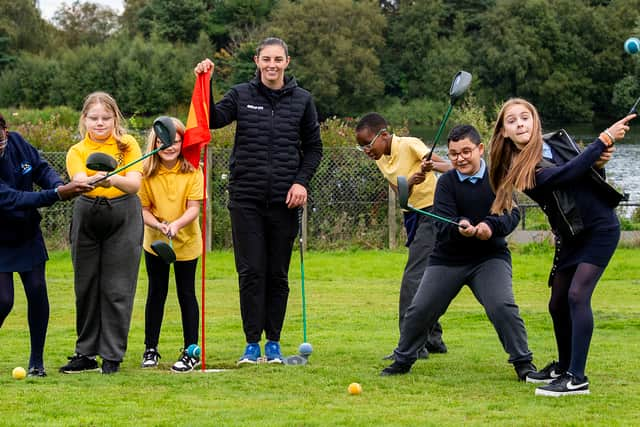 Head of Golf Alyson McKechin, who leads the programme, said: "It's been incredibly rewarding to see how the kids and volunteers/sport leaders have embraced golf. It's been a passion for me my whole life so the opportunity to pass that on and encourage other kids to seize the opportunities I was lucky enough to have, is really special.
"The most exciting element is the fact so many of the kids have visited Golf It! already, just under four weeks in – it's great to see the game sparking something for them and hopefully creating players of the future.
"Golf brings so much – it improves mental health, it's exercise, it's getting outside in our lovely setting with deer roaming around, but it's providing a lifelong interest in the sport or possibly even a career on the green or behind the scenes. But for me to see some of them playing here or elsewhere in 20 years and enjoying golf is more than enough."