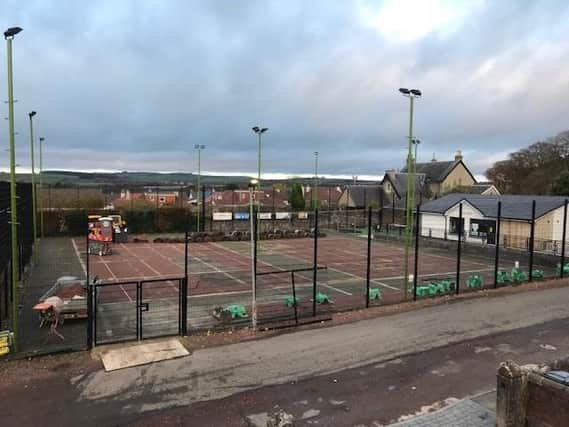 Along with that court revamp, remedial work will be carried out on the roadside retaining wall and floodlight masts will be repainted.
The £68,700 project could not have happened without funding contributions from the Renewable Energy Fund, Viridor and Levenseat Trust, club members, local funders, sponsors 3R Energy and Border Biscuits.
The work started on October 26, with the courts being closed for around four to six weeks.
Club president Allyson Matthews said: "We are very fortunate to be able to continue the upgrade of our facilities here at Lanark Tennis Club.
"Our new clubhouse will soon face out onto first-rate courts, fencing and floodlighting.
"We will be able to offer an excellent playing environment for our members and the local community who have supported us over the last few years."
During covid-19 and following Lawn Tennis Association guidelines, the club stayed open during the summer months and beyond, with membership numbers on the up.
The club also took part in a scaled-down West of Scotland League with 30 members representing Lanark, consisting of three men's and one ladies' team.
Group coaching including Accessible Tennis sessions went ahead and were well attended despite estricted numbers.
Marie Burns, founder of Accessible Tennis, said: "Many activities for people with learning difficulties, and for those in recovery, are not taking place at present due to covid-19.
"Fortunately, tennis is one of the few sports running as physical activity is important for good mental health.
"Accessible Tennis managed to run sessions at Lanark Tennis Club and has kept tennis progressing for Phoenix Futures in Glasgow.
"More resources are needed to keep this vital work going. If you would like to help, please consider becoming a supporter."