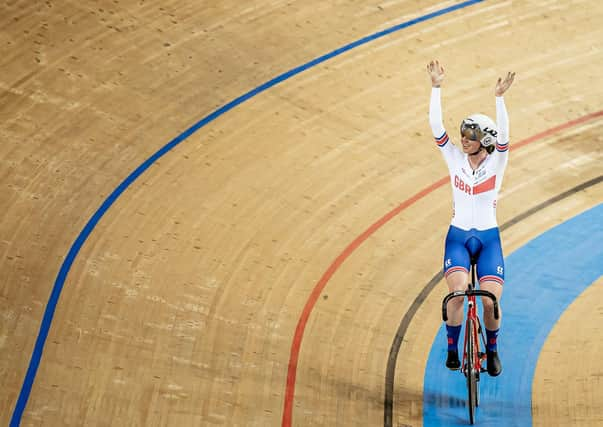 The 26-year-old added to her glittering collection of major medals with victories in both the team pursuit competition and the individual points race.
And she admitted afterwards that it had been events such as the points race, and the madison, which had fuelled her dreams of becoming a top cyclist.
She said: "For me, the points race was my first love of track cycling and, when I dreamed of who I wanted to be, I wanted to be the character of a points racer.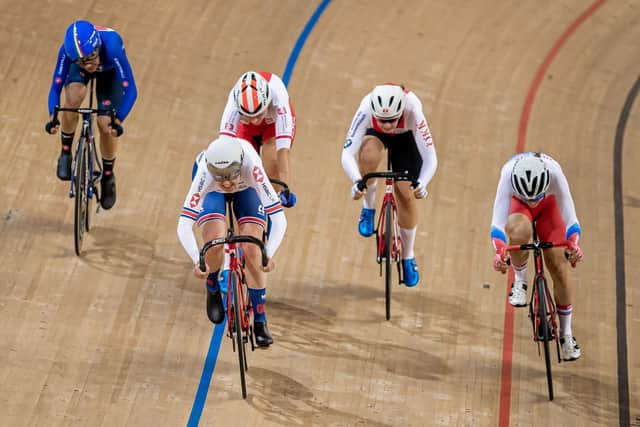 "It has all of the tactics, strength, speed and excitement encapsulated in track cycling. The points race and the madison are my true loves so it's a very special race.
"With coronavirus and the limited race programme, it feels really special to have the opportunity and to be on the (podium) step with that opportunity is a big deal."
Katie stated her intent from the start, winning the first two sprints, collecting points in the following two, and then winning the fifth sprint for a comfortable halfway lead.
With 30 laps to go, Katie attacked with Italy's Silvia Zanardi, Poland's Karolina Karasiewicz and Portugal's Maria Martins, with the foursome taking a lap with 24 still to go. Zanardi ate into Katie's lead on the penultimate sprint, narrowing it down to 10 points, meaning gold for Katie was not a foregone conclusion.
However, Katie stayed attentive and showed her strength by winning the final sprint, taking the European points race title by 18 points.
She admitted: "I get drawn into the sprints and it puts me in danger, so against a different field I would have been kicking myself as I was really in danger – the right attack could have done me in, so I'm glad I kept my head and didn't let the wrong move go and I was there to contend at the finish."
Katie's triumph came two days after she had teamed up with Neah Evans, Laura Kenny and Josie Knight for a convincing team pursuit win in a scorching time of 4:10.437, over three seconds faster than silver medalists Italy – the team's fastest time since winning 2016 Olympic gold in Rio.
Double success in Plovdiv took Katie's total major championship medal haul in Olympic Games, World Championships, European Championships and Commonwealth Games to a remarkable 31, 19 of them gold, including her sixth European team pursuit title. However it was her first points race gold, having previously had to settle for Commonwealth Games bronze in 2014 and silver four years later.