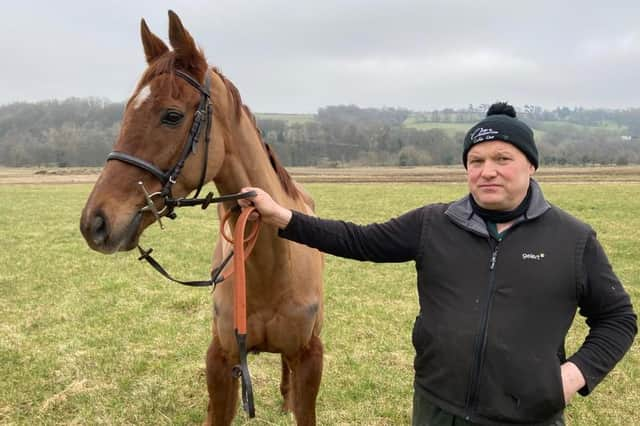 Willie Young Jnr, of Overton Farm, Crossford, had been poised to step in so that the Balcormo Races Fife point-to-point meeting, to be staged behind closed doors for Covid-19 adherence, could be rerouted to the South Lanarkshire venue on Saturday, April 24.
But, just when Willie and his counterparts from Fife thought the plan was a goer, it has been scuppered by the realisation that Scotland's road map out of lockdown doesn't allow the return of non elite adult contact sport until May 17.
Speaking exclusively to the Carluke and Lanark Gazette, Willie said: "There is no doubt about the fact this is a right blow to us.
"I'm really disappointed.
"It would probably have run at a loss, but the point-to-point authority would have given us a bit of money to put it on.
"There would have been no crowd, it would just purely have been horses and the people who have them. The protocols were all in place, it's just unfortunate that the dates weren't quite right.
"We would have been allowed to run it a month later but by that time it's too late because of the seasonality of the job. Farming's got to go on and as time goes on the ground gets too firm.
"There are loads of other reasons why point-to-point doesn't go on during the summer.
"We were keen to get the meeting on because these people are training horses and they have had nothing to go to up to now.
"It would have been a seven-race card including a bumper race – which is just like a national hunt flat race – with no jumps.
"There were problems with the land at the Fife course so they couldn't hold their meeting there.
"They asked us for help because we are the next most northerly course.
"There is a bit of a connection between us and Ronnie Bartlett of the Fife point-to-point and he had asked if we could take it on."
Willie said that the big promotion being sold for the event had been sponsorship for live streaming.
He added: "There is a company that does the live streaming and Andrew Thornton and Darren Owen were both in place to commentate and do the compering.
"The point-to-point scene in England restarts next week but we have fallen foul of government legislation.
"They (the authorities) said we could try and move the date a bit further along the line but we can't do that.
"So unfortunately it's hit the buffers."
Before the pandemic hit, Overton Farm had been the annual scene of Clydesdale's best attended sporting event for the past 16 years.
The Lanark and Renfrewshire and Eglinton Hunt point-to-point meeting regularly attracted 5000 race fans and – incredibly for an event held in Scotland in March – was virtually always blessed with good weather!
But the 2020 and 2021 versions of this popular family day out have had to be cancelled due to the pandemic, joining many thousands of such grand sporting occasions to be wiped out as folk around the globe have lived through the most trying period since WWII.
However, with lockdown easing ongoing and a vaccine being successfully rolled out, hopes are high that by March 2022 the Crossford event can once again be staged and in front of thousands of spectators.
Willie, who said that Fife point-to-point are keen for their event to also be held in Crossford next year, added: "Hopefully by next spring we will get back to some sort of normality.
"By that time it will be two years since we last had it here.
"It's certainly got to be a big event in the social calendar and in the point-to-point scene. There is definitely a hunger for it.
"You would hope that we will have thousands of racing fans here next year, but it depends on what the authorities allow, what the social distancing rules are and different things like that.
"It's an outdoor event so you would think it would be a fairly safe environment.
Meanwhile, star Overton Farm trained horse Ardera Cross – ridden by Ryan Mania – finished ninth in Sunday's Northern Lights Two Mile Chase Series Final Handicap Chase at Carlisle.
Going into the race, hopes had been high that the Crossford hope could produce a strong performance having won an incredible eight times – winning £73,000 in prizemoney – since being bought by Willie for just £1,000 at an auction in Doncaster in May 2019.
Willie said: "The conditions just beat us more than anything.
"It was very, very wet underfoot and the course didn't suit the horse either.
"But I can't blame the course.
"I don't think we would have won, I don't think we would have been second, anyway.
"The top two horses – Halcyon Days and Miss Amelia – were very good.
"But we were only nine lengths off the third horse.
"He put up a fight and he's fit and well now."
Willie said it isn't definite when Ardera Cross will run again, although getting him back into action at Perth next month is possible.