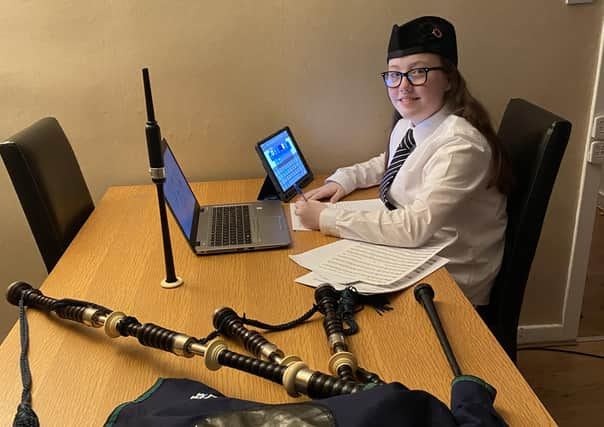 Run by The Scottish Schools Pipes and Drums Trust (SSPDT) and the Red Hot Chilli Pipers, Wake Up Scotland aims to create inspiring music to cheer up the nation.
All young musicians have to do is team pipes and drums up with other instruments.
Craig Munro, a piper with the Chillis, said: "We want youngsters to form bands of up to nine musicians to compose original pieces of contemporary music or create dynamic cover versions.
"For now this will have to be done online but if the lockdown eases bands may be able to come together, respecting any remaining restrictions."
All bands have to do is film their entries using music or conference apps and submit them for judging by some of the country's top musicians.
The winning band will play as support act at a Red Hot Chilli Pipers gig and will showcase their composition at next year's Scottish Schools Pipe Band Championships. Cash prizes will also be awarded to the three best entries.
Alexandra Duncan, SSPDT chief executive, said: "The first prize will be £1000, with £500 and £250 for second and third place respectively.
"We know how badly people are missing playing together during this crisis. This is a great way of helping re-establish safe contact and wake Scotland up with a blast!"
In the run up to the deadline for entries on June 12 the Chillis will be releasing videos giving help on composing and how to make bagpipes work best with other instruments.
Alexandra said if lockdown eases before the entry deadline bands may want to film their entries in real life, while still obeying any restrictions.
She added: "This really is a natural extension of the hugely popular freestyle class we run at our schools pipe band championships in March.
"We have seen how well pipes and drums go with other instruments and singers – this is a great chance for Scotland's talented young people to show what they can do."
The SSPDT supports the delivery of in-school pipe and drum tuition to more than 3000 Scottish school pupils.