Listen up Stargazers, the opportunity to look up toward the night sky has got much more exciting with the imminent arrival of the Snow Moon. Residents across Glasgow don't have long to wait until they can see the second full moon of 2023.
A full moon occurs roughly every 29.5 days as it begins the reverse process of its cycle. The first full moon of 2023, known as the Wolf Moon, illuminated night skies on January 6.
The Snow moon has been uniquely named based upon the time of its appearance. Native Americans reportedly nicknamed full moons after the changes which occur in nature and identified the snow moon with its association to the wintry showers of February,
Gazing at the sky for a little bit of solace or escapism from our busy lives has continued to rise in popularity as Astro tourism sees travellers venturing to breath-taking off-the-grid destinations to experience the unparalleled beauty of our galaxy. Whether you're an amateur astronomer or a cosmic expert, stargazing has been a popular hobby for millions since ancient times.
But when will the Snow Moon take place in 2023 and what is the best time to see it in Glasgow? Here's everything you need to know.
When will the next full moon take place in 2023?
The Snow Moon is due to light up the night sky on Sunday (February 5). Here's a list of all 13 full moons that will occur throughout 2023, according to The Old Farmer's Almanac…
January 6: Wolf moon
February 5: Snow moon
March 7: Worm moon
April 6: Pink moon
May 5: Flower moon
June 3: Strawberry moon
July 3: Buck moon
August 1: Sturgeon moon
August 30: Blue moon
September 29: Harvest moon
October 28: Hunter's moon
November 27: Beaver moon
December 26: Cold moon
What is the best time to see the 'Snow Moon' in Glasgow?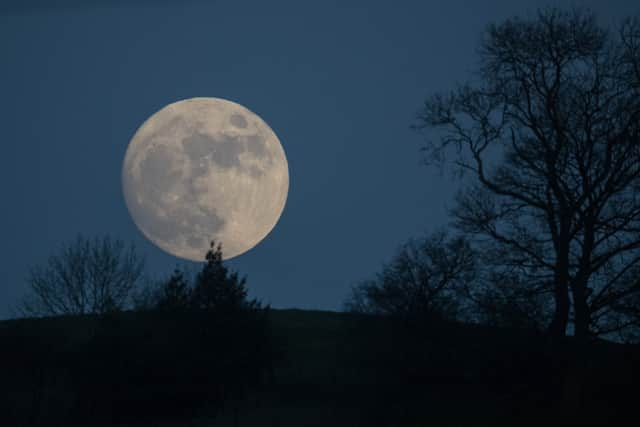 The best time to catch the Snow Moon in the UK is after sunset. So stargazers across Glasgow will have the best chance of spotting the Snow Moon after 4.58pm GMT.
The Met Office forecast says visibility will remain 'very good' throughout Sunday in Glasgow. However, it is still forecast to be cloudy so if you are unable to see the snow moon there will be a virtual streaming of it rising over Rome broadcast by The Virtual Telescope Project.
Stargazing tips on viewing full moons
While stargazing may seem simple, external factors can make or break the event. Light pollution can impede on how much of the astronomical event we see and cloudy conditions can almost pull a curtain over the view entirely.
A clear spot as close to the horizon as possible is recommended for the best view unless of course you are able to find a dark-sky site or even better, an observatory.
EarthSky advises amateur stargazers not to buy a telescope straight away as they can be a pricey investment. Start with binoculars and if you're really on a budget, the naked eye will perform just fine given the right conditions.