Dillon Squire on his debut solo EP 'Yellow Car No Hitbacks'
"It's all self-portrait, imagery from my youth, my adolescence, to me right now."
Watch more of our videos on Shots!
and live on Freeview channel 276
Visit Shots! now
Around a year ago I had a conversation with a friend, he was adamant that the sound of Glasgow was on the verge of transformation. Because of lockdown, he explained, as young people were restricted to their bedrooms without the usual sources of inspiration, detached from the culture of live music that had previously dominated and shaped the scene - heavy guitars, rowdy vocals - they were treading through territory previously unventured. Kids were forced to live their social lives through the internet where music made halfway across the world was just as accessible as what's being produced down the road. It was less intrusive to experiment on a synth wearing headphones than on a drum kit or electric guitar. People experienced loneliness and isolation in ways they hadn't before, leading to new forms of creative expression.
Dillon Squire is part of this transformation. He grew up between Manchester and Glasgow, he is the son of Stone Roses guitarist John Squire. Having entered the Glasgow music scene as a teenager, he became a prominent player with his band Heavy Rapids, performing loud and shouty songs inside basement bars along Sauchiehall Street. Now aged 25, he's preparing for the release of his first solo endeavour, an EP titled 'Yellow Car No Hitbacks' - which he describes as his most vulnerable work yet. The excess of spare time brought on by the pandemic allowed space to reflect on his art, the message he wanted to send and the sounds he wanted to create. This EP is a product of that.
The name 'Yellow Car No Hitbacks' refers to a playground game, where, if a yellow vehicle passed by the first to call it would be required to give their friend a bump on the shoulder. Dillon said: "It's metaphorical to me being an artist now. I'm 25, I feel alive, and I want to offer my life to writing my best music and never looking back". The six-track release will be shared to streaming platforms on 20 October with the backing of independent label LAB Records and 7 West Music. Squire is hosting a launch party at the Rum Shack in Glasgow's Southside on 28 September and tickets can be purchased here.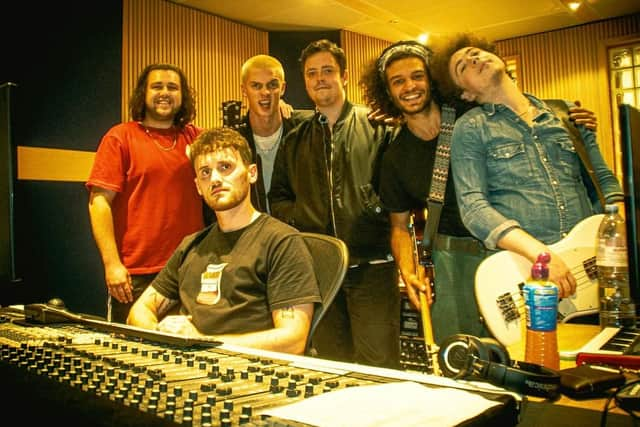 "My new EP is simply a self healing journey and a cathartic process that ended up turning into six of the best songs I've ever written. I started singing from the bottom of my heart and made sure that every word wrote down and that passed my lips was meaningful.
"It all started years ago when I was in an outfit called Heavy Rapids - just four guys who started a band, started making some noise and we got a bit of attention from a New York-based manager called Possia. It was hilarious how that came about, we were about to support the Blinders at Broadcast and we accidentally got spun on John Kennedy's show in the wrong order. She was tuning in to listen to a band called Spector, but the presenter played our song before their show. We were all sat in the car in the parking lot outside Broadcast and she called and said she loved the track. She flew out to meet us and from there it went to agents and to talking to labels and all this exciting stuff.
"I think where we were at as a band at that point, we just weren't ready to take it to the next level. We were on different pages. At that time I was getting a call from Lucia, Lucia and the Best Boys and she wanted me to do guitar for the band. It seemed like a good jump to make, to a more professional project. That was short lived, they were a great bunch of people, great musicians, but I just admitted to myself that that wasn't what I wanted to do and I felt a bit out of place. I'm a big believer that everything happens for a reason and I think all that was just meant to come to an end.
"And then obviously lockdown happened and I started working on my own material and just unlocked a bunch of emotions and topics I hadn't really explored, self-related. I started this cathartic healing process and luckily I landed on my feet with a bunch of material that I'm super proud of and can't wait to show you all.
"It's all self-portrait, imagery from my youth, my adolescence, to me right now. Colours and visuals I like. I think it can all be morphed and shaped a bit better but when you're just starting something out it takes a bit of time to find  that image and that look and I'm sure sometime within the next few months, before the end of the year, that'll all snap into place.
"The lineup we've got right now just feels so much like a band and it's amazing to have them respect my vision so much but still make it feel like a group project. So the lineup just now is myself, Bo, Rab and Josh.
"Me and Bo have been friends for the past three years, we worked together and just became best friends. Had each others backs in everything we've been doing. If I was to describe him in three words it would be 'best guitarist ever'. Josh much the same, he's always been about, I've always known who he was, and when the bass vacancy became available he reached out and said he'd love to do it, and I'm so glad I got him on board he's just one of a kind, such a lovely guy, such a great player. Three words for him would be 'magic fingers Johnson'. That's a bit of an in joke but it had to be said.
"Rab the drummer is just one of the tightest and motivated players I've ever worked with. He really keeps me going, gives me a drive that I've lusted for for a long time. An exceptional bunch of guys, great therapists, amazing chefs, everything you need in a touring party."