Interview: Meet Big Girl's Blouse who are about to make their Tenement Trail debut
"I feel like we've all got really distinctive ways of playing with each other and we all gel really well and it all comes together and we can express our own personalities through what we play."
Watch more of our videos on Shots! 
and live on Freeview channel 276
Visit Shots! now
Big Girl's Blouse are about to make their debut at Tenement Trail, Scotland's festival for music discovery, where they are scheduled to play McChuill's 10pm opening slot. Their music is punky but progressive, heavy but delicate, and an innovative example of genre blending that presents both transgressive and emotional themes. The band, made up of Emmy (lead vocals, guitar), Ross (guitar), Harrison (bass) and Reece (drums), is somewhat a product of the pandemic, having casually formed just before the world turned to catastrophe wherein they utilised the social shift to hone their craft.
Ahead of the set (7 October) we caught up with Emmy and Ross to discuss where the band sought inspiration and what the message they are aiming to encapsulate with their songs.
Emmy: "It all started when I'd written songs that I wanted to either play on my own or play with a band and Reece the drummer agreed to come in and jam with me and then Harrison and Louis, the other guitarist who was in before Ross, bumped into us on the street and because we'd talked about it before they said we'll be in your band. We had a couple of practices before lockdown and felt pretty positive, and then after all the lockdowns ended we did our first gig in August 2021 at the Hug and Pint and then Louis had to leave the band and then Ross came in and here we are."
Ross: "Yeah I'm the latest addition, bringing it all together."
Emmy: "So, the name Big Girl's Blouse. Some people don't know where it comes from and I thought it was a really obvious thing when I picked it, but it's an expression to kind of belittle someone and say 'you're such a little girl'. I just like the formulation of it, my dad used to say it to us as a joke when we were kids so that's why I have it in my head. It came to me when I was watching a TV show in my flat, it all started when one character said it to the other and I just thought, that's a good name for a band."
Ross: "We're a good mix of fast, rocky songs with some introspective lyrics. They can go fast, they can go slow. I feel like we cover our grounds really well and have our one defined sound, a combination of all the bands we really like - Pixies, Sleater-Kinney. We're all into alternative, kind of old school music."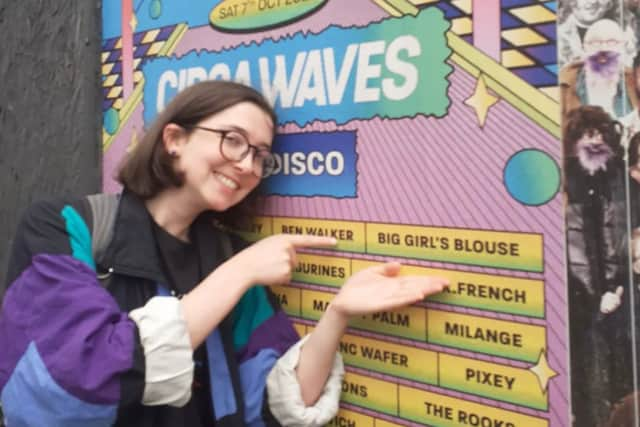 Emmy: "I think the sound came from the people in the band, it was a really lucky coincidence that I'm so grateful for. It's honestly quite mad that everyone in the band just brought the exact right ingredients and things really fell through when Ross joined the band and the whole thing just tied together really well."
Ross: "I feel like we've all got really distinctive ways of playing with each other and we all gel really well and it all comes together and we can express our own personalities through what we play."
"I've been playing in Glasgow now for years, I used to play in some older bands, and the scene's been going through a bit of an evolution at the moment. When I started it was just bands like the Dunts, Heavy Rapids and stuff like that. It was all angry, shouty, punk at the time. I think that's cool but it can only get you so far if you want to be expressive.
"But it's cool what's happening at the moment, everyone's being individuals and everyone's really putting themselves forward as well as their music, it just comes out naturally, and no one's trying to jump on trends, it's just like 'this is who I am, this is how I play', it's cool."
Emmy: "The lineup of Tenement Trail is really illustrative of that actually, because bands like Pink Wafer or Junk Pups or Lakuna or Walt Disco, Lizzie Reid, they're all so different but all really good. I think that's a real product of the new scene even though some of the bands are older it still all fits well with each other."
Ross: "It's got a distinctive Glasgow sound almost."
Tickets for the festival can be purchased here.