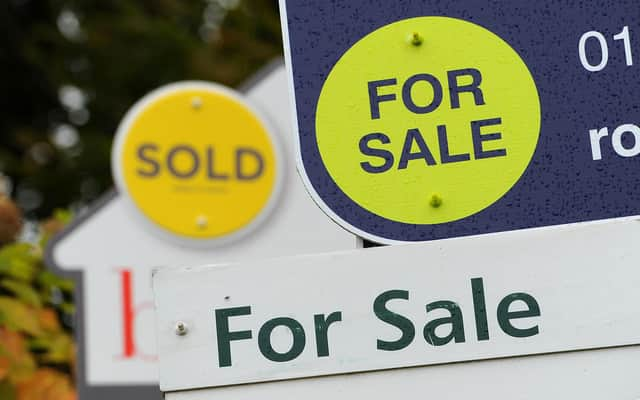 House prices dropped by 1.3% – more than the average for Scotland – in East Dunbartonshire in November, new figures show.
But the drop does not reverse the longer-term trend, which has seen property prices in the area grow by 8.1% over the last year.
The average East Dunbartonshire house price in November was £271,621, Land Registry figures show – a 1.3% decrease on October.
Over the month, the picture was similar to that across Scotland, where prices decreased 1.2%, and East Dunbartonshire was lower than the 0.3% drop for the UK as a whole.
Over the last year, the average sale price of property in East Dunbartonshire rose by £20,000 – putting the area 13th among Scotland's 32 local authorities with price data for annual growth.
The highest annual growth in the region was in Na h-Eileanan Siar, where property prices increased on average by 26.9%, to £164,000. At the other end of the scale, properties in Aberdeen lost 4.7% of their value, giving an average price of £140,000.
The average UK house price edged down to £295,000 in November 2022, from the previous month's record high of £296,000.
Property prices increased by 10.3% in the year to November, slowing from 12.4% in October.
Nathan Emerson, CEO of Propertymark, which represents estate agents, said: "In November, our agents reported a market that was on the cusp of seeing purchasing power handed back to buyers which was a trend we hadn't seen in months."
And Roger Evans, director of home finance distribution at Gatehouse Bank, said: "The property market is slowly becoming more favourable for buyers in some areas as rates stabilise a little following the turbulence of 2022."
First steps on the property ladder
First-time buyers in East Dunbartonshire spent an average of £200,000 on their property – £15,000 more than a year ago, and £46,000 more than in November 2017.
By comparison, former owner-occupiers paid £324,000 on average in November – 62.1% more than first-time buyers.
Property types
Owners of flats saw the biggest fall in property prices East Dunbartonshire in November – they dropped 2.1% in price, to £142,057 on average. But over the last year, prices rose by 5.1%.
Among other types of property:
Detached: down 0.7% monthly; up 9.3% annually; £493,476 averageSemi-detached: down 1.3% monthly; up 8.7% annually; £284,499 averageTerraced: down 1.4% monthly; up 9.5% annually; £204,979 average
How do property prices in East Dunbartonshire compare?
Buyers paid 41.8% more than the average price in Scotland (£191,000) in November for a property in East Dunbartonshire. Across Scotland, property prices are high compared to those across the UK, where the average cost £295,000.
The most expensive properties in Scotland were in Edinburgh – £334,000 on average, and 1.2 times as much as more than in East Dunbartonshire. Edinburgh properties cost 2.6 times as much as homes in Inverclyde (£127,000 average), at the other end of the scale.
The highest property prices across the UK were in Kensington and Chelsea.
Factfile
Average property price in November
East Dunbartonshire: £271,621Scotland:£191,492UK: £294,910
Annual growth to November
East Dunbartonshire: +8.1%Scotland: +5.5%UK: +10.3%
Highest and lowest annual growth in Scotland
Na h-Eileanan Siar: +26.9%Aberdeen: -4.7%