Asda hopes to fight hunger this July, with your help
Asda stores across Scotland have launched a food drive to help the country's most vulnerable people access vital food and essentials.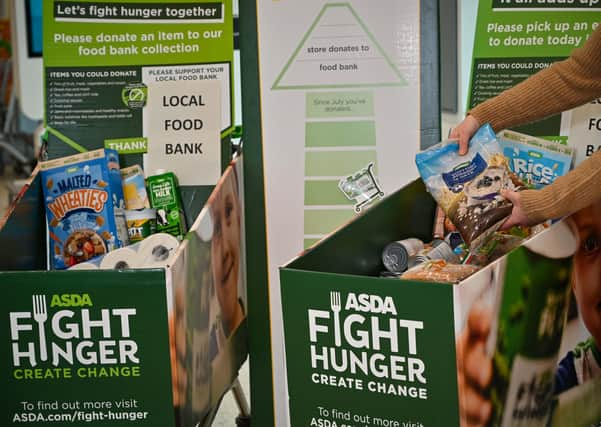 The month-long food drive calls on customers to donate vital food and hygiene essentials, to support local people through Covid-19.
And, for the first time, the retailer has installed a new signposting system to encourage customers to donate items their local food bank is most in need of, such as tinned, hygiene and non-perishable goods.
Food banks across the Trussell Trust network have seen a staggering rise in demand of 89 per cent in need compared to April last year.
Jo Warner, Asda's senior community director, said: "We already have permanent food collection points in store and encourage our customers to donate what they can.
"But over the next month we're really trying to increase the number of donations as we support our partners through the unprecedented demand for emergency food parcels which food banks have sadly seen due to the pandemic.
"Our customers and colleagues are always very generous and I want to thank them for continuing to support our Asda Fight Hunger Create Change programme, which is making a real difference in their local community."
Through the retailer's Fight Hunger Create Change partnership with anti-poverty charities the Trussell Trust and FareShare, Asda is providing ongoing support to help meet the pressures faced by the charities and the communities they support.
The £20 million partnership between the supermarket and charities has enabled FareShare to double its capacity, meaning more food is reaching those in need, while the Trussell Trust is providing even more support to people referred to food banks.
Emma Revie, chief executive of the Trussell Trust said: "Since the outbreak of coronavirus, more people have needed food banks.
"Our network is working hard to make sure emergency help is there for people unable to afford the essentials, but we really need your support in Asda stores this month.
"It's not right that anyone needs a food bank in the UK, so we're pushing for long-term changes that get money into the pockets of people who most need it.
"But while we do, food banks need your donations to make sure help is there for anyone who needs it. Anything you're are able to give will make such a difference."
Earlier this year, Asda donated an additional £5 million to its partners to help the most vulnerable through Covid-19.