Caring Lenzie schoolgirl's video exercise plans for 100 care homes
A caring Lenzie schoolgirl is giving fitness guru Joe Wicks a run for his money!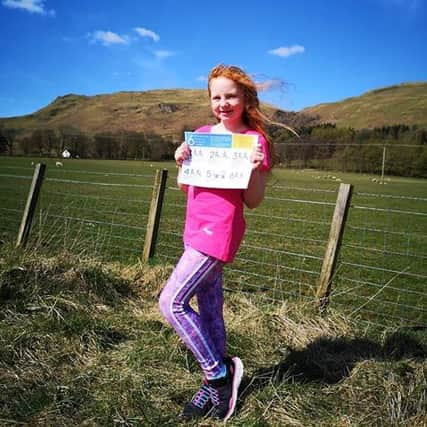 Heather Bryson (8) has released a nine-minute-long chair exercise video, specifically developed by physiotherapists, for people living with dementia.
The Lenzie Meadow Primary School pupil's first video collected more than 1,000 views within an hour of being uploaded recently.
Now she's taking part in a special challenge to honour Captain Tom Moore by attempting to arrange a live video exercise session with 100 care providers on June 11.
Heather thought of the video classes after her gran recently died in a care home.
She told the Herald: "My granny was in a care home and I liked to do chair exercises there and I liked singing to everyone.
"The seated rowing is my favourite exercise."
Heather's video has reached far flung corners of the globe, including Australia, New Zealand, Canada and Singapore. They have also been shown in care homes in England.
Proud mum Deborah said:"A care home in Singapore couldn't get the residents to do any exercises but when they saw Heather's video they joined in.
"The lady there was amazed that after all this time struggling to get them to do it, the minute they put on a video of Heather, in a different language, off they went!"
Heather has also being showing off beauty spots in the area, by shooting exercises outdoors, including at the Campsies (pictured).
Deborah said: "The views, Heather's red hair and cheeky grin are going down well in America."
Lorraine Donnelly Depute Head Teacher at Lenzie Meadow Primary School said: "We are proud of Heather and all her efforts supporting this charity.
"She is a very keen and enthusiastic member of our school community.
"We are delighted she demonstrates all our school values - be kind, be safe and be responsible."
The new chair exercise video is available on her YouTube channel: https://www.youtube.com/watch?v=JJGze3qXh9k&t
There is also more info and news of her adventures on her Facebook page: https://www.facebook.com/Lock-Down-Exercise-By-H-106998824802145