East Dunbartonshire scientist is on the run to help cancer research
A scientist is urging people to back cancer research by signing up to Race for Life at Home.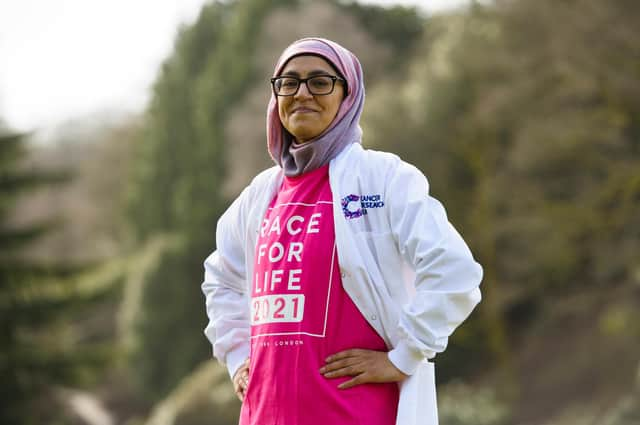 Dr Saadia Karim, a researcher at the Cancer Research UK Beatson Institute, based in East Dunbartonshire, will join thousands of people from across the UK who have all vowed to run, walk or jog 5K either alone or in small, socially distanced groups this April to raise money for life-saving research.
People can visit raceforlife.org to sign up to Race for Life at Home for £5 then receive a Race pack which includes a medal.
All money raised will help scientists find new ways to prevent, diagnose and treat cancer.
Cancer Research UK is predicting a staggering £300 million drop in income caused by COVID-19 over the next three years which could put future medical breakthroughs at risk.
Dr Karim knows exactly how vital it is to keep raising funds. She and her colleagues are testing new drugs which could lead to better and kinder treatment for pancreatic cancer.
Dr Karim said: "COVID-19 has slowed me and my colleagues down, but we have been determined to keep our experiments going where we can.
"It's been the most challenging year, but I'm more determined than ever to find new treatments which will bring hope to people living with pancreatic cancer. I'm proud to play my part in delivering world-class research.
"Research like mine wouldn't happen without the generosity of the people of Glasgow. I'd encourage everyone across Glasgow to pull on their trainers, get out in the fresh air and join me for Race for Life at Home this spring."
Dr Karim's research is part of the PRECISION-Panc initiative. PRECISION-Panc was established to improve outcomes for pancreatic cancer, where survival remains low.
Every year around 770 people die from pancreatic cancer in Scotland, and one in two people in the UK born after 1960 will get some form of cancer in their lifetime
 Visit raceforlife.org or call 0300 123 0770. Join in with #RaceatHome There will be a live broadcast on the Cancer Research UK Race for Life Facebook and Instagram pages on Saturday April 24 and includes energiser from a fitness expert.