Absolute Roasters, which opened on Hyndland Street in 2021, will serve its last coffee and brunch on Sunday 26 February.
The move to 70 Hyndland Street, the former location of Gather by Zique, came after a short spell as a pop up further up the road, in what is now Nostrana pizzeria.
The team posted the shock news on social media, writing: "WE'RE MOVING… again. We know.. After 18 unbelievable months at Hyndland St, we're hanging up the BRUNCH hat and moving on to the next chapter of Absolute Roasters.
"We've been working away hard for months on our NEW STORE on 10 Waterloo St, which will allow us to offer the very best of everything we've ever served, and some really good new stuff that just makes sense. Think Nitro Cold Brews, amazing fresh lunch food and the most ambitious patisserie selection we've ever had.
"Thank you so much to everyone who has helped us and supported us to get to this stage, our amazing customers, our family and friends and most importantly our legendary hard working team, past and present, we really can't thank you enough for being absolute roasters with us. Its not a goodbye to the west end, it's a see you soon, we'll be back, we're still searching for the perfect space, albeit without a brunch kitchen. Give us a shout if you're in the know. This weekend will be our last at 70 Hyndland St.
"We appreciate this is last min, but it's been in works for a while, as quite a few of you may already have known. So come along, get your brunch fix from us, Sunday will be our last day here.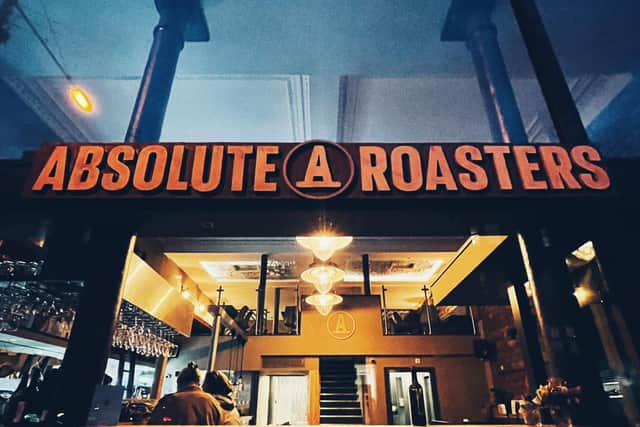 "We're not leaving you empty handed, we're still open at @absoluteroasters_washingtonst and there's an amazing business moving in to 70 Hyndland St right after us. So keep an eye out for them and show them some love. Thank you, from the bottom of our hearts."
The business was started by Sean Williams and Megan McFarlane and was originally a Piaggo coffee van located in an industrial estate in Firhill.
Living in Finnieston, a local spot made sense, and Megan's dad had the van, which had been sitting in a field in Inverness. Two weeks after they initially set up, Covid happened.
Not to be deterred, a few months they set up on the canal, where people would be walking, and gained a following. Then, despite the uncertainty, Absolute Roasters opened a pop-up on Hyndland Road, next to Old Park Station, in the former Tabac newsagent which is now home to Nostrana pizzeria.
Reaction to the closure shows how popular the cafe, brunch spot and home of the original psitachio latte has been (personally we love the coffee), with followers writing of their shock. One wrote: "OMG!!!! I can't even express how much we will miss you!!" while another added: "Nooooooooooooooooooooo. How will I cope pistachio latte wise? But also. Good luck with the new space."