Glasgow Food Stories: Meet the man who brought Ramen Dayo to Glasgow
"I think coming from Glasgow, we're quite into curry and spicy food, and when I tried the tantanmen it was so unctuous and rich, I'd never really tasted anything like it before."
Watch more of our videos on Shots! 
and live on Freeview channel 276
Visit Shots! now
Ramen is one of the most popular dishes in Japan, a type of noodle soup inherited from Chinese immigrants in the 19th century, and then adapted to suit the land and culture. At its most basic, it consists of wheat noddles, a flavoursome broth, and toppings - usually some sort of meat or vegetables - though it can be interpreted and materialised into various different forms.
Before 2016 ramen was a relatively unknown commodity in Glasgow. That was until Paul Beveridge, who came home after spending 12 years in Tokyo, took it upon himself to introduce the dish into the local food scene. After perfecting recipes inside his mother's flat in the Southside - to the extent the ceiling began swelling with humidity - he started his specialised business venture, serving the dish from on Gordon Street as Ramen Dayo.
He then moved to a permanent premise on the West End's Ashton Lane with the aim of offering customers an authentic Japanese dining experience, with 'downtown-style' authentic decor to establish the mood. Earlier this year the restaurant expanded to a unit on Argyle Street in Finnieston, and Paul is currently working on plans to open a third on Renfield Street in the city centre.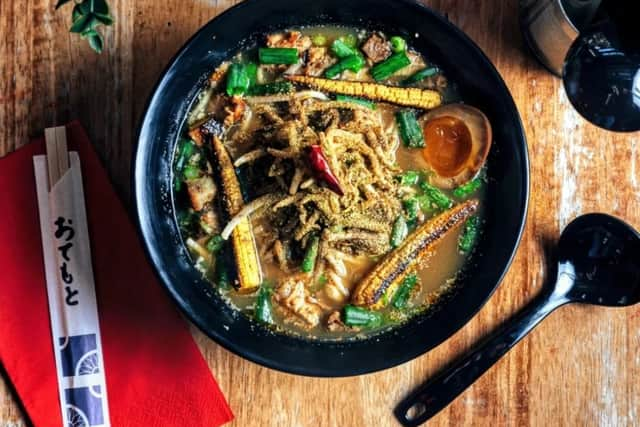 Paul said: "I worked out that when I lived in Tokyo I ate probably three bowls of ramen a week which translates to over 2,000 bowls of ramen. I moved back here in 2014 and spent a couple of years working on recipes - every single weekend - to the point I thought I'd got the ramen really good. I let my Japanese friends try it and they were all like 'this is legit'. I let my Scottish friends try it - a lot of them were trying ramen for the first time - and they were all like 'oh my gosh what is this'. That's when I decided to open Ramen Dayo.
"We opened in a traditional ramen yatai, which is a food cart. I had the wheel base made and sent over from Japan and then we built the yatai from scratch. We opened in Gordon Street Lane in December 2016.
"In Japan I think there's close to 5000 ramen restaurants. I think the first few times I had it it maybe wasn't in the best spot and I was underwhelmed but then my friend took me somewhere else that does the tantanmen, which is probably our biggest seller on the menu, and I was just mind blown.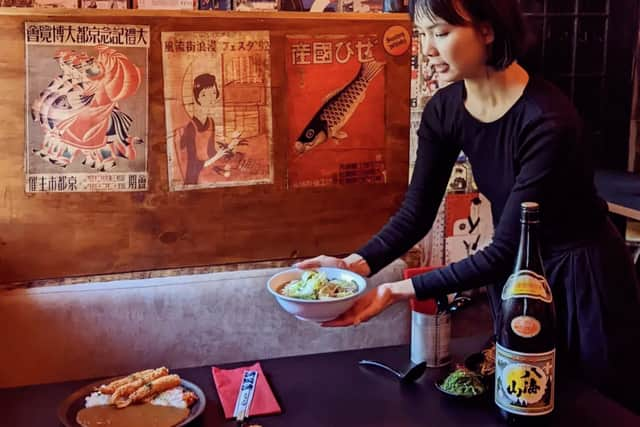 I think coming from Glasgow, we're quite into curry and spicy food, and when I tried the tantanmen it was so unctuous and rich, I'd never really tasted anything like it before. It set me on a path to try all the ramens. There's just such an abundance of ramen restaurants in Tokyo and luckily, where I worked in Waseda was the centre of the ramen scene, you know if I was walking home I'd probably have to pass a good couple hundred ramen shops. There was a lot to choose from, a lot of different genres.
"Dayo means 'this is' with an exclamation mark. In Japan they don't really use exclamation marks they put 'yo' at the end of sentences. So it's like 'THIS is ramen'. Being the first ramen restaurant in Glasgow I thought it was fitting and catchy.
"When I came back to Glasgow, I asked one of my friends the best place to get ramen and his response was 'what's ramen?'. When I realised there wasn't anywhere to get ramen I decided to make my own. Making ramen from scratch is like a 50 hour process - you have to make the pork broth which takes anywhere between 12 and 24 hours, you have to make the chashu, you have to make the ajitama eggs, you have to make all the aroma oils, you have to make the base flavour. To make a whole bowl of ramen takes a long time.
"I was working night shift at the time, I would finish work at 10am, go to the shop, buy all my ingredients, buy my bones, put the broth on, go to sleep and then wake up in the evening and continue cooking the broth through the night. It wasn't until Sunday evening that I'd be able to enjoy a bowl of ramen. The first ten times I did this it was shockingly bad, but I was asking friends for tip bits of information, I was on Japanese blogs painstakingly trying to translate everything, watching YouTube tutorials. Every week it got incrementally a little bit better.
"The first dish I worked on was our tonkotsu which is our signature dish. After I thought I'd nailed our broth I then started to work on the tantanmen, and then after that was the tonkotsu miso and the tonkotsu miso black. All four of those dishes are still our big sellers."