Beat 6, a charitable restaurant, has announced a new location and Spring opening date.
The team behind Six by Nico restaurant group has confirmed Friday April 21st, 2023 as the opening date for a new Bearsden location.
Beat 6, which will be located at 149 Milngavie Road in Bearsden, will see a delicious combination of unique food and social good. The restaurant's profits will go directly to Beatson Cancer Charity, which supports cancer patients and their families who are being treated atthe Beatson West of Scotland Cancer Centre.
The 48-seat restaurant will invite customers to 'Dine to Donate,' and will offer a monthly rotating 4-course set menu that will provide guests with an interactive and unique dining experience. Beat 6 will also offer a unique private dining space for events and fundraising dinners.
Six by Nico and their customers have raised over £350,000 for Beatson Cancer Charity through a series of team events across their eleven locations in England, Scotland, and Ireland since the groups partnership's inception in 2021, with 100% of the proceeds from the Beat 6 brand going directly to Beatson Cancer Charity.
Nico Simeone from Sixco Group said: "We, like many others, have a special place in our hearts for the Beatson, and we will be eternally grateful for everything they do on a daily basis to help change the lives of those affected by cancer.
"Our new Bearden neighbourhood location will continue to raise vital funds for the charity and the staff to whom we owe so much, while also giving our team the opportunity to be a part of such an important cancer awareness journey.
"Our donations of over £350,000 to date are just the beginning, and Beat 6's new home in Bearsden is one of the most exciting fundraising initiatives we're ever been a part of."
Restaurateur Nico Simeone, his wife Valentina and their family want to help Beatson Cancer Charity help others in the same way it helped them. Valentina is one of thousands of Scots who have benefited from the Beatson's world-class treatment.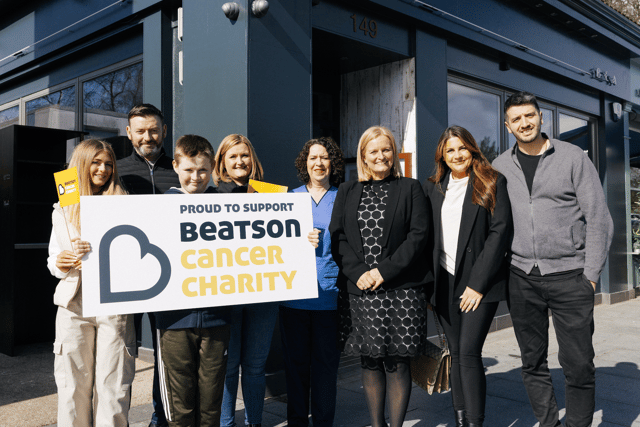 Martin Cawley, CEO of Beatson Cancer Charity, said: "We are so grateful to Nico Simeone and his fantastic team who have already raised an outstanding £350,000 for our charity following the success of the Beat 6 restaurant in the east end of Glasgow. The money raised through Beat 6 allows us to support so many cancer patients and their families across the west of Scotland.
"We are delighted about their decision to reopen Beat6 in Bearsden, bringing their unique concept to the hometown of Nico and his wife Valentina. The response during the restaurant's first year of being open was exceptional and we are looking forward to seeing how the Bearsden community supports the restaurant when it opens in April."
Beat 6 will open on Friday April 21 at 149 Milngavie Road in Bearsden, Glasgow and diners and patrons of all types can expect a special insight into the restaurant and its menu in the coming weeks.