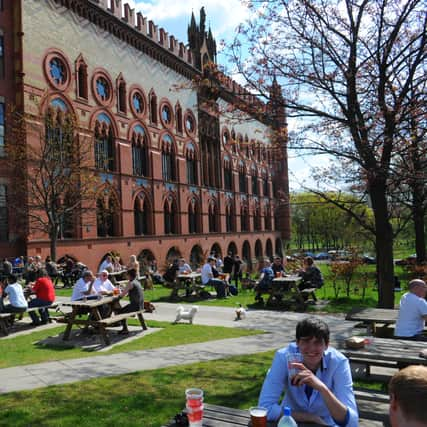 For those of us who enjoy a bevvy, thoughts may well turn to the best venues at which to bask in glorious sunshine (fingers crossed).
Glasgow, whose publicans are a pretty optimistic bunch, has a lot of beer gardens.
These are the ones that we like (and might still be pleasant enough to drink in without a 15C, taps-aff scorcher to speak of).
(445 Great Western Rd, Kelvinbridge, 0141 357 1075)
Inn Deep is a dog-friendly, craft beer pub just a few yards away from the Kelvinbridge subway station.
Situated beside the River Kelvin, its beer garden has a big scenic advantage over its West End rivals; the area, on a sunny day, is a joy to relax in – if you can find a seat.
Others who get there too late make do with retreating to the vault-like drinking booths nearby, where you might still catch some rays if you're sat at the edge of the table.
What we're drinking: The new El Perro Negro beer from William Bros Brewing Co.
(45 North Frederick Street, G1 2BS, 0141 559 4331)
Popular with most Strathclyde and Glasgow Caledonian University students, The Ark is the perfect city centre sun trap.
Its layout looks much like your parent's garden patio but it does the trick when you're in the mood to enjoy a cold refreshing drink outside in warm weather. It's largely student clientele makes for an upbeat and lively atmosphere.
Be warned though, it gets very busy.
What we're drinking: Brooklyn Special Effects.
(93-95 Hyndland St, G11 5PU, 0141 357 5825)
Cottiers' dog-friendly beer garden is actually more of a courtyard. The area accommodates a number of wooden benches within the terrace, and is a popular drinking spot during the summer.
The bright greens and yellows of the trees and bushes that decorate the area's perimeter enhances the atmosphere immensely and brings to mind a picturesque country manor garden, even amidst the bustling Hyndland suburban sprawl.
What we're drinking: Birra Moretti
(Templeton Building, Glasgow Green, G40 1AW, 0141 550 0135)
The Templeton Building is one of the most handsome buildings in Glasgow.
The building was modelled on Doge's Palace in Venice, which makes it all the more remarkable that it was home to a carpet factory.
Set against this backdrop, the beer garden, at the front of the building, is one of the best around. The beer, as you'd expect from a place with an onsite brewery, is pretty spot on as well.
What we're drinking: Heidi Weisse.
(Ashton Lane, G12 8SJ, 0141 342 4966)
Brel's fairy-lit beer garden makes effective use of a potentially awkward space. A hill that slopes downwards from left to right is what drinkers are greeted by when they make their way through.
But there's an advantage to this lopsided space: it catches the sun like few other beer gardens.
The patio adjacent to it is a welcome addition to the Ashton Lane bar, plus the bar has a fire pit, which is ideal for cooler night and can be booked for groups of up to 12 people with s'mores and drinks packages available.
What we're drinking: Brel summer slushie.
(31 Ashton Ln, Hillhead, G12 8SJ, 0141 341 0669)
Another hot spot in Glasgow's trendy West End is Vodka Wodka. Its beer garden is on the smaller side but is still bursting with energy, good music and tasty cocktails.
If you're out for the duration, you can also grab a cheap bite to eat without having to venture inside.
What we're drinking: Raspberry Lynchburg.
(16 Algie Street, Shawlands, G41 3DJ, 0141 343 7569)
This popular southside bar reopened in 2018 after a £650,000 refurbishment. The bar, which has built up a large loyal following over the past few years, has become something of an institution in the southside, and Signature pubs hoped to honour that legacy with a reinvigorated approach to food, beverage, entertainment and atmosphere.
When the weather is good, customers can head outside to the large beer garden for drinks in the sun.
What we're drinking: Cold Town pornstar martini ale.
(Osborne St, Glasgow G1 5RP)
Independently owned Glasgow Beer Works (GBW), formerly Merchant City Brewing, opened a new beer garden in the Merchant City last summer.
Situated under the famous John Byrne Billy Connolly mural on Osbourne Street in the city centre, the beer garden has space for up to 80 guests.
The team at GBW worked with a selection of Glasgow's favourite street food vendors – Salt N Chilli, Muerte Por Churros and Fire Dog Gourmet Hotdogs – to design the perfect menu of delicious street food to accompany their award-winning brews.
There is also a range of wines and cocktails, most of which have been sourced from smaller, local suppliers.
What we're drinking: American pale ale.
(1051 Great Western Road, G12 0XP, 0141 339 5575)
This west end bar made the headlines during lockdown as it gave away hundreds of meals to NHS and frontline workers.
They're now back open as normal, and customers can enjoy sunny weather at their colourful picnic tables or hide from the elements in the covered seating.
They've recently extended their opening hours for the terrace which is open until midnight on Fridays, Saturdays and Sundays serving frozen margaritas and free pizza.
What we're drinking: frozen margarita.
(162 Dumbarton Rd, Partick, G11 6XE, 0141 588 4653)
A bit of a hidden gem, Bauhaus is located close to Patrick station and is hugely popular on sunny days thanks to its spacious beer garden.
Come for the sun and drinks, stay for the food which is made by Exile Cooks. The new menu has a range of fish, meat and veggie small plates.
What we're drinking: old fashioned with rye.
A version of this article first appeared on our sister site, The Scotsman.