Glasgow-born eyewear brand IOLLA has designed two versions of a fully biodegradable frame as part of its mission to reduce its carbon footprint and that of its customers.
The Butter Tortoise and Crystal Fade frames from the new Douglas Collection are made using eco-acetates meaning they can eventually be broken down in compost conditions without causing pollution.
"We wanted to make glasses that last your lifetime, but not the planet's lifetime", Iolla's product designer Callum Kettles told me when I went to pick out my own pair.
"We've worked really hard with our partners to develop this new technology.
"It is based on using eco plasticisers, so under composting conditions, the frames will break down into natural occurring compounds.
"It's an exciting technology because it has all of the same characteristics as the rest of our collection, but it has these amazing eco credentials that come along with it.
"We're really trying to reduce the amount of glasses that end up in landfill."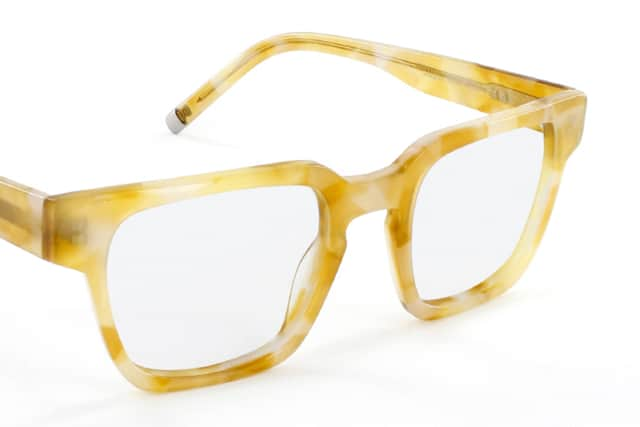 The brand, which specialises in design and does not have in house opticians, has taken over the Scottish optics industry since it launched in 2015, providing prescription glasses and sunglasses for the single price point of £85.
IOLLA prides itself on delivering handmade, accessible premium eyewear and its unique approach has proved a point of attraction and pushed it into unique markets.
It is behind the production of Tommy Shelby's signature spectacles in the fifth season of Peaky Blinders, and opened its first English base in Manchester in 2022.
While materials that go into the Douglas Collection have the potential to be planet-friendly, in order to fulfil this the customer holds responsibility in how they eventually dispose of the frames.
Biodegradable products are not intended to be broken down in landfill - because nothing is - and thus the best course of action is to recycle them, which can be done simply at a station inside any Iolla store.
"A great thing about our eyewear is that it's long lasting, it's high quality", Callum said.
"We offer a refresh initiative where you can get your lenses replaces, get your frames cleaned.
"Another thing we do is that we can turn your old glasses into sunglasses."
For updates on city centre life and Glasgow shopping, follow the #LoveGlasgow hashtag across social media for inspiration, city guides, what's on listings, days and night out ideas this spring.
Review
After picking up my prescription pair of Butter Tortoise frames from the West George Street City Centre store, I can confidently recommend Iolla products.
The industrial contemporary design of the showroom, paired with a navy and orange colour palette, and natural wood surfaces, was an aesthetic.
Present employees all had good knowledge of the products and explained technicalities clearly - not to mention they were all friendly and approachable.
The range of frames was impressive, as well as the colour palettes they came in.
Personally, I've found glasses shops to be particularly isolating places in the past as most specs don't seem to be designed with my face shape in mind.
My nose bridge sits higher than the average persons and thus most frames tended to look strange, often resulting in me settling not for the pair I'm happy with but the pair that was merely satisfactory. This has also led to me not wearing my glasses when I should.
Whether this was a factor Callum had in mind when he designed the glasses I'm not sure, but nevertheless I was astounded by the options I had.
I'm more than happy with my Douglas glasses, they look great and feel sturdy.