Billy Connolly releases new sculptures for just under £10k at Glasgow art dealership
Castle Fine Art on Queen Street is selling Billy Connolly's artwork in sculpture form
Watch more of our videos on Shots! 
and live on Freeview channel 276
Visit Shots! now
Castle Fine Art is again delighted to present the latest works from Billy Connolly, this time celebrating the joys of life on the road with new sculptures and limited editions.
He has just released a new volume of autobiography entitled Rambling Man: My Life on the Road, recalling his incredible travels over the years, from being a musician on the road to international jaunts making TV series. The book went to the top of the Sunday Times hardback bestseller list, showing how Billy's popularity never wanes.
Billy's love of travel is reflected in his new artworks. Based on his previously sold-out hand-signed giclées, 'Direction' and 'Two For The Road' have been reimagined in polished stainless steel in these new sculptures.
Alongside these, we present a special limited edition giclée of 'Two for the Road Rambling Man Edition', with the addition of striking green colour added to Billy's trademark black-and-white drawings.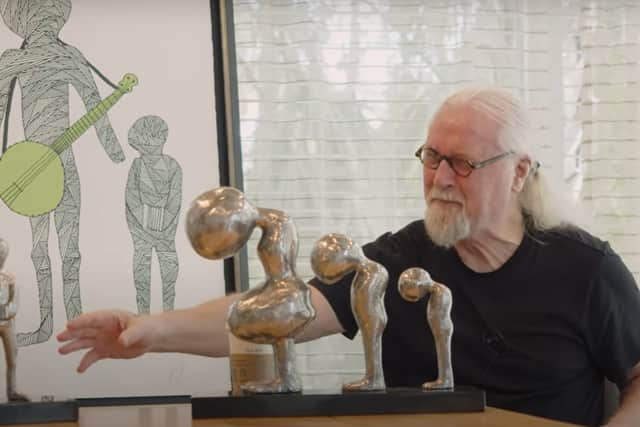 "'Two for the Road' looks like every band I was ever in," laughs Billy. "I was never in a popular band, except The Humblebums, the band I was in with Gerry Rafferty. And it reminds me of the recent book I've done about being on the road and travelling, and I know how much that has been part of my life.
"The wee one in the picture is a melodeon player; melodeon players are weird; they know obscure things that nobody cares about. Melodeon players will go up to other melodeon players and say: 'Is that a B18?' and have incredibly dull conversations about melodeons with each other.
"They're boring, but I find them incredibly interesting. I love people like that; I love people who go into music shops, not to buy anything, but they just love looking at banjos and fiddles and autoharps and all things musical that they find interesting, and he's one of them.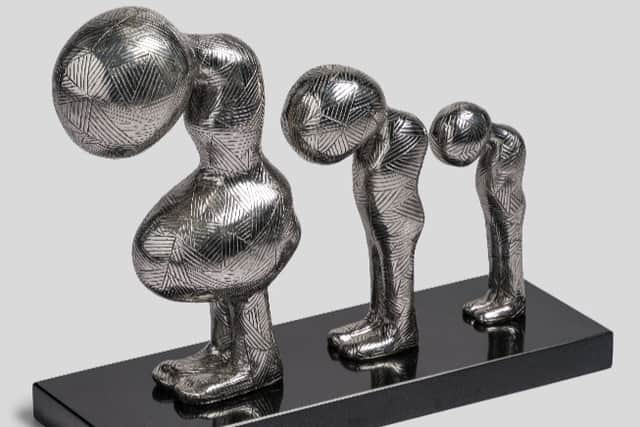 "The big one is in charge. They're on the road and they're doing gigs – they don't do 'engagements'. And why are they naked? I don't know. I'd have to ask them sometime. I love it because it reminds me of a joke which has stayed with me for years and I sometimes find myself sitting smiling because I think about it.
"Two guys like them turn up for a gig and they go down really well; I suppose it's a surprise to themselves. And after they've gone down well, the organiser of the gig comes up and says: 'That was splendid, could you come back and do the same gig exactly a year from tonight?'.
"And one of the guys says: 'Oh yeah, that would be lovely'. And he goes away but calls him back and says: 'Excuse me. That was very nice of you to offer us the gig a year from tonight. So we were just thinking, would it be cool to leave the gear here?' And it's always made me laugh.
"In 'Direction', you have one person is leading or directing these two other persons. I don't know what they're doing or where they're going. But they're being led by this person. I don't know if it's a woman or a man - I think it's a woman because it looks like they're in a dress. Following your mother through a shop when you hate shopping comes to mind. But that's not the way I work; I just draw them and they could be anything. It could be a kilt or something stuffed up it, so it's up to the viewer to decide.
"I hope if you get one of these pieces, you live with it. I find living with them dead easy, and the number of people who own my art now, it's breathtaking and it's made me very happy."