Danger of fly-tipping on Clydesdale roads
Fly-tipping is a growing issue on Clydesdale roads and it is feared it may even cost lives.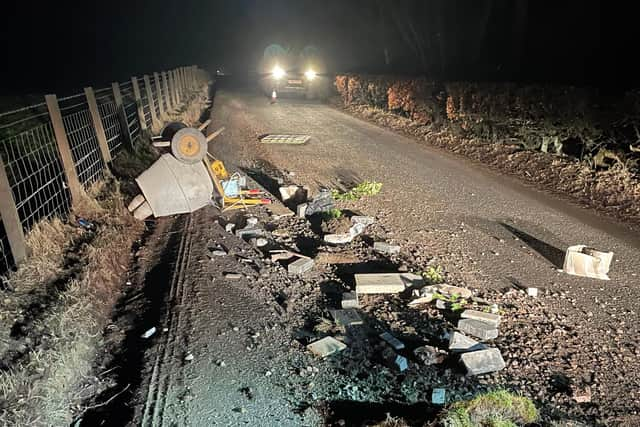 The issue was thrown into sharp focus, when a concerned reader contacted the Gazette.
Driving on Greenshields Road, from Biggar to Newbigging, around 7pm on March 7, she drove her car into a pile of fly-tipped material in the middle of the road.
It has cost hundreds of pounds to repair the damage but the worried mum, who didn't want to be named, had a much bigger concern.
She said: "It had all been dumped as they were going up the hill; coming from the opposite direction meant there was no chance of seeing it. It was in the middle of the road.
"There was a cement mixer, pallets, mono block, bricks and a washing machine further down the road.
"If my son or a less experienced driver had ploughed into it, who knows what might have happened. I just want to make other people aware of this danger."
Police officers who attended told the woman it wasn't the first incident of this nature they'd come across.
A Police Scotland spokeswoman said: "Luckily no-one was injured in this incident but dumping rubbish is dangerous and irresponsible.
"Fly-tipping is an offence which we take very seriously. We would urge people to report it to police, along with any descriptions of people or vehicles involved."
South Lanarkshire Council is all too aware of the cost of fly-tipping, not only the impact it has on our countryside but on the public purse too.
Indeed, in the last two weeks, council employees have been hard at work clearing rubbish from our roads – with work on the the A72 Garrion Bridge to Lanark; Coalburn Road, Lesmahagow; Belstane Road, Carluke and Ayr Road from Canderside to the Garrion Bridge.
The need for cleaning up has only increased during lockdown, as fly-tippers have made a fast buck from dumping people's rubbish in our beautiful countryside.
It's a growing concern for the council.
Alistair McKinnon, head of facilities waste and grounds services, said: "Fly tipping is illegal, unacceptable and costs time and impacts on resources when council tax payers' money could be be tter spent elsewhere.
"In the case highlighted by the Gazette, it's also potentially dangerous.
"As a council we are doing all we can to highlight and tackle the issue.
"During weekends in March, our teams have been out on roads around the Clydesdale area lifting litter from road verges and slip roads. This creates further inconvenience for drivers as we need to close lanes to make sure our workers are safe."
Following a similar exercise around Hamilton in February, almost ten tonnes of litter and rubbish was recovered.
While the figures for Clydesdale are still being collated, Alistair appealed for the public's help.
He added: "We can't tackle this issue alone; we continue to urge communities to dispose of waste correctly or store it until they are able to.
"It's crucial that residents don't take up offers of disposal from companies unless they can be verified as registered waste carriers.
"If you see anyone dumping rubbish or waste or want to report fly-tipping let us know by completing the form on our website.
"Please provide as much information as possible, including location and the type of waste dumped, to let us get to the problem quickly."