Ken Bruce: Popmaster host has 'absolutely' no hard feelings about BBC as he starts Greatest Hits Radio show
Ken Bruce gushed to ITV's Lorraine Kelly about the 'challenge' of starting his new Greatest Hits Radio show
Watch more of our videos on Shots! 
and live on Freeview channel 276
Visit Shots! now
Ken Bruce has admitted he's "amazed" by the success of Popmaster as he prepares for his new radio show on Greatest Hits Radio.
The radio host, 72, from Glasgow, appeared on Lorraine Kelly's ITV daytime show on Thursday in his first TV appearance since leaving BBC Radio 2.
He confirmed that his popular Popmaster segment will be broadcasted from 10.30 daily on his new Greatest Hits Radio show.
"I've been amazed at how much that has taken over. I think I'm responsible for a drop in the output of the economic health of this country. I'm saving the national grid because people stop working to listen," Ken joked.
Ken explained he found inspiration for the quiz during a lunch meeting focused on finding a new idea for radio.
He said: "We went to have lunch to think of a new idea and came up with this brilliant quiz and it was fantastic. But we had had a couple bottles of wine and didn't write it down, so when we woke up the next morning we were like 'do you remember?'.
"No. So we had to have another lunch but we wrote it down on paper before we opened the wine bottles. That was the key to it."
Ken revealed that he was hoping to have some time to relax and watch TV before starting his new radio show but has found himself busy with interviews and practising using the system in his new studio based in London.
Sharing how viewers can listen to his show, Ken said: "Look up Greatest Hits Radio, if you have a digital radio it will be on there somewhere probably. There's one or two parts of the country that we have not yet reached but we are going to get there."
Lorraine joked: "You are so rubbish at promoting yourself. I love it."
Laughing, Ken said: "I know, I can't do it."
Ken, whose new show will air 10am-1pm, told Lorraine that he has "absolutely" no hard feelings about leaving the BBC, while adding that his new role will be a small "challenge."
Ken said: "There is a time in your life where you say 'do I keep on doing this forever and ever and watch a slow decline' or do you just give yourself a kick up the backside and try something new.
"It's not brand new and I'm still doing more or less the same thing. It's just in a different environment and a commercial station, which I've never worked on before. It will be a little challenge but enough of a challenge to keep me on my edge."
He added: "I think when you've got nothing to prove, you have to go and prove something. I kind of felt like I would be just turning the handle at the BBC. I thought, 'let's see if I can go out and do it somewhere else.'"
Lorraine shocked Ken by then admitting she stole a Christmas decoration from his old studio during a previous visit. The ITV daytime host revealed that she either puts it on top of her tree or on a bottle at Christmas.
"It's put a way in a special box with tissue paper," Lorraine added.
Ken responded: "I have to say Lorraine it's just a bit of paper."
Lorraine said: "No but it's got your face on it though."
"You could print it the next year," Ken chuckled.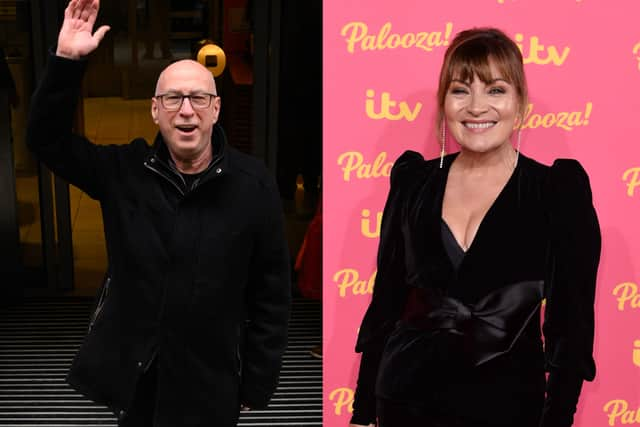 Lorraine continued: "No you can't. It's not the same because that was yours and it was on your desk. Did you not notice it was gone?"
She was left shocked as Ken revealed they had around 200 of the decorations in the studio, so he never noticed that one was missing.
Ken went on to reveal that he listens to a variety of other radio shows but doesn't enjoy listening to himself. The host reflected on how the industry has changed since he started on radio as listeners can now listen to stations from around the world, before plugging his new show which starts on Monday.