Lewis Capaldi was gifted a bronze statue of himself from students at his former school to mark the release of his new album 'Broken By Desire To Be Heavenly Sent.' The singer, 26 from Glasgow, couldn't help but smile as he posed alongside the rather unusual looking statue.
Fourth year pupils and teachers spent six months creating their tribute at St Kentigern's Academy in West Lothian. The life-sized statue featured large, bulging eyes and a slim figure and was based on Lewis' album cover - with a nod to the infamous, slightly 'off' Ronaldo sculpture and James Corden's David Beckham prank.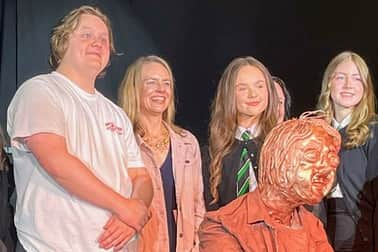 Lewis was unable to control his reaction to the statue in some snaps, which was designed purposefully to not resemble him exactly. The new work was unveiled to Lewis before his show at Glasgow's SWG3 venue on Sunday (May 21).
Lewis told the students how much he loved the piece saying: "You've really captured my essence. It's pretty weird looking but I like it. That's truly the best and weirdest thing I've ever been given. Genuinely, I love it, thank you very much. I mean, it might give me nightmares, but…it's beautiful."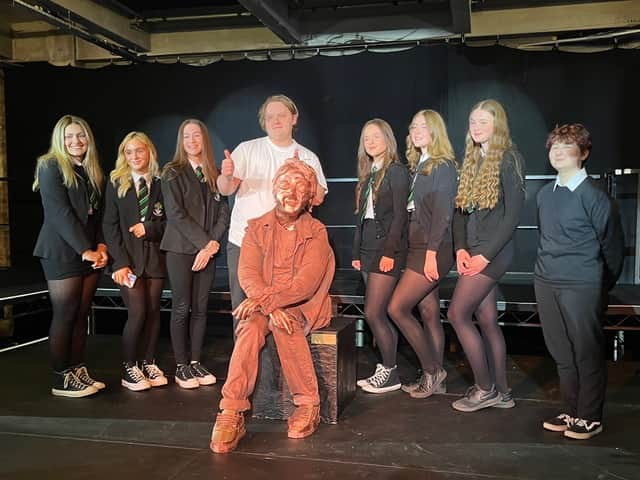 Bryan Johnston, Principal Art Teacher at St Kentigern's Academy, said: "The art department got involved with the concept after speaking to Lewis' team and we decided to follow James Corden's concept when he made the statue of David Beckham a few years ago.
"The statue for Beckham didn't really look like David Beckham, so we did something similar to that, but wanted to link it to Lewis' new album which has now been released. The biggest challenge we faced was getting the face to look not quite right and a bit unusual and it went from there."
Lewis received the statue just two days after the release of his sophomore album 'Broken By Desire To Be Heavenly Sent' on May 19, which has already seen immense success. The Official Chart company released their Midweek charts yesterday (May 22), confirming that Lewis' album is heading more-than-comfortably for Number 1 in its debut week, outselling the rest of the Top 20 contenders combined.
The same day, Lewis announced another last minute 'Behind The Music' show in Edinburgh that will be held at 1pm today (May 23) at the O2 Academy in Edinburgh. Tickets for the event have already sold out and is in addition to the two other Edinburgh shows Lewis will hold at Edinburgh Queens Hall today.