The main march will be on Saturday, July 2 - one day after the anniversary of the Battle of the Boyne, where, in 1690, William III's forces beat those of the deposed James II - the last Catholic monarch in British history.
The result was a major dent in James' bid to be restored to the throne and helped secure William III and Mary II's - both Protestant - position.
The annual Boyne celebrations are the biggest in the Protestant calendar, with dozens of Orange groups marching through Glasgow.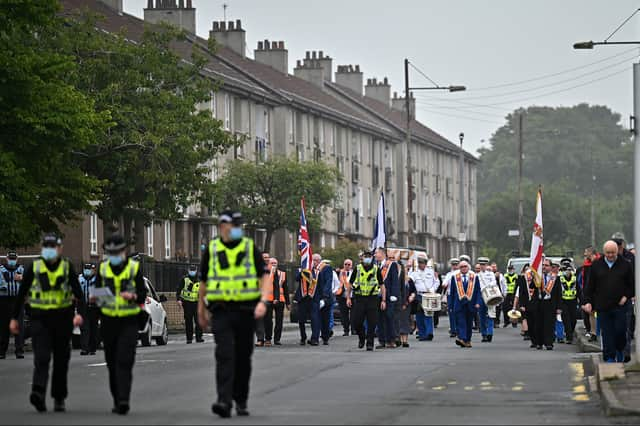 The biggest is being organised by the County Grand Orange Lodge of Glasgow, with an estimated 4075 people taking part in the march from 10.35am onwards.
Road closures
The following roads will be closed to traffic between 5am and 4pm on July 2.
Albion Street, between George Street and Blackfriars Street
Anchor Lane, for its full length
Bell Street, between Albion Street and Spoutmouth.
Bridgegate, between King Street and Saltmarket
Cochrane Street, for its full length
College Street, at its junction with High Street
Duke Street, between John Knox Street and George Street
Dundas Street, for its full length
Gallowgate, between Trongate and Watson Street
George Square (East), for its full length
George Square (North), for its full length
George Square (South) for its full length
George Square (West), for its full length
George Street, for its full length
Greendyke Street, between London Road and Saltmarket
High Street, between Cathedral Street and George Street
High Street, between John Knox Street and George Street
Ingram Street, between Albion Street and High Street
Ingram Street, between High Street and Glassford Street
King Street (southbound only), between Bridgegate and Osbourne Street
London Road, between Trongate and Charlotte Street
Montrose Street, for its full length
Nelson Mandela Place, for its full length
Nelson Street, both sides between Bridge Street and Commerce Street
North Hanover Street, between Cathedral Street and George Square (North)
North Hanover Street, between George Square North and Queen St Station entrance
North Portland Street, between Richmond Street and George Street
Parsonage Row, at its junction with High Street
Saltmarket, between High Street and Clyde Street
Shuttle Street, between College Street and Ingram Street
St Andrews Street, between Saltmarket and James Morrison Street
Trongate, between Albion Street and High Street
West George Street, Nelson Mandela Place and George Square