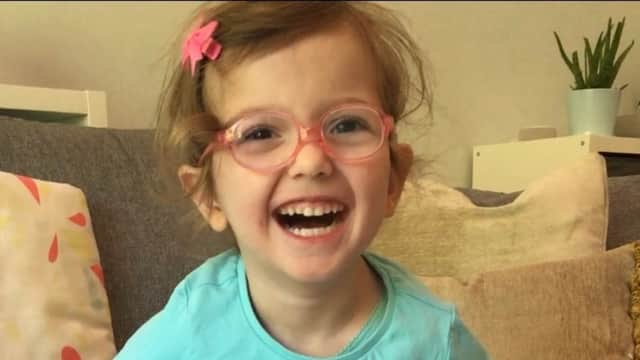 Alara Kavak is a four-year-old from Largs whose family are currently undertaking the mammoth challenge of trying to raise £80,000 in just three months.
Alara was born very prematurely, and had to spent her first eight weeks alive being supported in the neonatal intensive care unit. As Alara developed in her first year, it became clear to family and physicians that Alara was struggling to meet physical milestones - shortly after Alara was diagnosed with Cerebral Palsy as a result of her premature birth.
The young girl, who despite the struggles she's faced in her short life, remains chatty, bubbly, and smiley - friends and family describe the toddler as having a big personality. Alara's diagnosis of Cerebral Palsy mainly affects her legs - meaning the tot is unable to stand or walk without support from family or mobility aids. Alara's condition also causes her a great deal of 'stiffness' and pain in her legs.
In spite of the pain and her rigid limbs, the brave young girl is determined to try and walk every single day. The family tirelessly researched how they could help allieviate Alara's pain - and came across the work of one American Doctor, Dr T S Park, who predicts a spinal surgery could remove the stiffness and pain from Alara's legs.
Fiona Kavak, Alara's mum, said:"We applied for the surgery for our daughter in America in the summer of this year and got the approval on November 1.
"We got the ball rolling shortly after and began a fundraiser through Just4Children on November 4. It's been a busy eight weeks which have been really full-on, we knew it was going to be tough to raise £80,000 in 12 weeks but in no way did we anticipate the support we would receive from the community.
"We really are amazed and overwhelmed with the support, Largs is just a wee place but everybody in the wider community has gotten right behind us. We even got an anonymous donation of £1000 from Canada and people are constantly getting in touch with their support."
The spinal surgery, called a Selective Dorsal Rhizotomy (SDR) would completely change Alara's life now, and in the future. In fact, coupled with intensive physiotherapy, Dr Park believes that Alara could be able to walk independently without the aid of family or other mobility aids. Alara is scheduled to receive this surgery at the end of February this year.
However an issue arised - the family face an enormous bill courtesy of the American healthcare system, with the SDR surgery costing a staggering £80,000.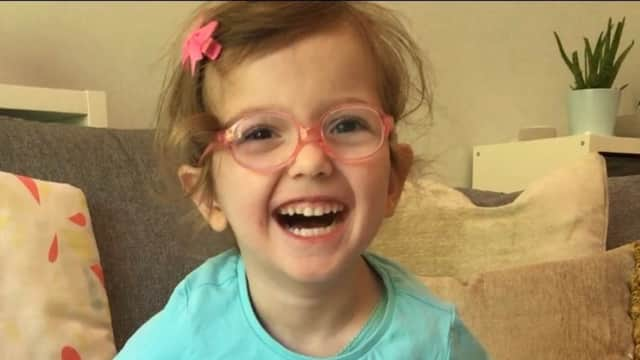 Fiona continued:" Alara's just turned four and she's not got the whole concept grasped. She knows we're going to America to get her little legs better, but she's not too aware of the surgery.
"She knows her little legs arent working the same as others but she's always got a smile on her face no matter what the challenge is for her.
"We will go into details on the surgery with her nearer the time so she understands, but at the moment she's really been having fun at the fundraisers and meeting everyone and seeing her picture on the collection buckets."
It's imperitive that Alara get's the surgery now - as the tot had to go through rigorous screening to see if she would qualify for, and benfit from, the surgery. As Alara's use of her legs deteriorates as she continues to grow, it could be that she won't qualify for the surgery a second-time - making it all the more important that the young girl gets the surgery now before it's too late.
Not to be dissuaded, the family began fundraising just a few days after they got the go-ahead for the life-changing surgery on November 1. Their deadline for payment is the end of January 2023, this month, and the family currently sit at £52,440 - around 65 per cent of their total goal of £80,000.
Alara's mum Fiona concludes:"We need to raise £28k by the end of this month if we want Alara to get the surgery.
"Alara needs to fit a certain criteria to undergo the medical procedure - and it's entirely possible that she won't fit those criteria a second time around. Her mobility has deteriorated as the tightness takes over her legs as she gets older.
"I'm feeling positive, but we can't run the risk of not getting approved a second time around, the thought of having to reschedule and go through all the medical checks again would be devestating.
"I couldn't be more thankful for all the people who have supported Alara and our family, I'm almost in tears at the end of every fundraising event, regardless of the money - having everyone turn up to support Alara means the world to us.
"This surgery is Alara's only chance of ever walking - but even if she isn't able to walk the stiffness and pain won't be there anymore - and just knowing she'll be able to live comfortably is enough. It feels like we're in a race against time to get the money raised before we miss the deadline at the end of this month."
You can also support Alara and her family by visiting one of their many upcoming fundraisers, listed below:
Charity Music Day @ Room - Sunday, February 5, 3pm-10pm - (48-52 Gallowgate St, Largs KA30 8LZ) - £5 entry with street food served all day.
24 hour 'Footballathon' - January 27 to January 28 - (Weir 3G, Largs KA30 9DL) - teams wanted for the 24 hour football match!
Alara's Heroes Fundraiser - Saturday January 7, 12pm-2pm - (The Pavillion, Kelburn Castle & Estate) - £10 for kids and £7 for adults
The Big Quiz for Little Legs @ Room - Friday January 6 - (48-52 Gallowgate St, Largs KA30 8LZ) - £5 entry includes half time snacks and a £50 voucher for first place!