Police Scotland have opened an investigation after Celtic manager Fran Alonso appeared to be headbutted by a Rangers coach following a fiery Old Firm in the Scottish Women's Premier League.
The incident took place shortly after the full-time whistle following the televised 1-1 draw at Broadwood Stadium on Monday evening after Celtic's striker Caitlyn Hayes scored a last minute equaliser deep into stoppage time.
Ibrox women's coach, Craig McPherson, is seen approaching Alonso on the pitch and thursting his head forward into the back of Spaniard as he acknowledged both sets of players to overshadow a thrilling contest.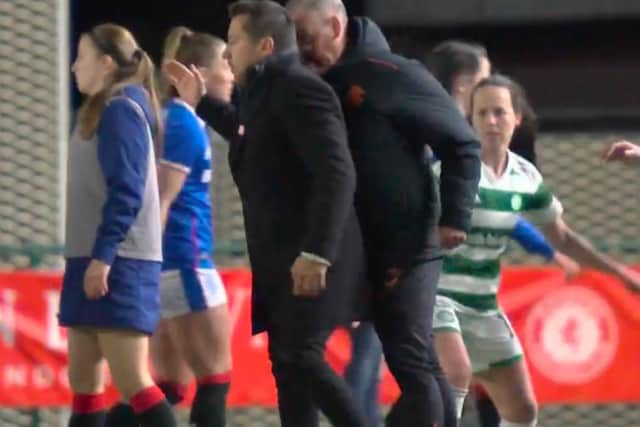 It was a big match for both sides in the SWPL title race, and on McPherson's birthday no less, tensions were running high between the two sides with Rangers also launching their own investigation into the incident.
Brogan Hay put home side ahead after 30 minutes and the Light Blues thought they had secured a crucial victory until a late 99th minute goal from Hayes secured a precious point for second-placed Celtic - who have now closed the gap on league leaders Glasgow City.
Police Scotland have since opened an investigation, while the Scottish FA's compliance officer is also set to look into the matter after receiving the referee's report. A spokesperson said: "We have received a report regarding an incident at Broadwood Stadium on the evening of Monday, March 27, 2023.
"Enquiries to establish any criminality are at an early stage."
A Celtic spokesperson added: "Clearly this is a hugely concerning incident, falling well below any acceptable standard. We understand the matter is now being investigates and it will be up to all relevant authorities to take any appropriate action."
Alonso, who has previously worked under Mauricio Pochettino and Ronald Koeman at Southampton and Everton respectively, told Sky Sports he was called a "little rat" as the footage was shown to him. He stated: "I don't know. You can see there, somebody pushed me from behind. I never talked to him (McPherson) the whole game.
"It's obviously disappointing to concede a goal in the last minute. I totally get it, but I was called a 'little rat', I don't know why."
Asked for his thoughts on the incident, Rangers head coach Malky Thomson stated: "Without me seeing it at all, I don't know that I can comment on it. If that's the case, then there will be an investigation and we'll obviously look at it."
Reaction:
The incident left former Grade 1 Scottish referee Steve Conroy calling for a lifetime ban on the Rangers women's coach and suggested he should get the strongest possible punishment.
He stated: "It is appalling. He should be instantly removed from his post & banned for life. There is absolutely no mitigation for that. He gave it forethought & should pay the full price for it. It's embarrassing that the first SWPL game to be shown live on Sky Sports is grabbing headlines for all the wrong reasons.
"This is simply thuggish behaviour, and the man involved should face the full consequences. We are trying to get rid of all forms of aggression and intimidation in football from grassroots upwards. This must be dealt with in the appropriate way."