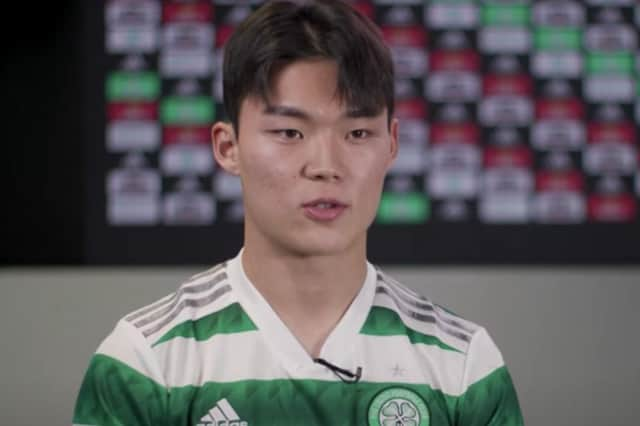 Oh Hyeon-gyu insists joining Celtic is a dream come true as the striker aims to follow in the footsteps of fellow countryman Ki Sung-yeung and Cha Du-ri.
Speaking exclusively to Celtic TV, he said: "I'm happy to be playing at one of the top clubs and I'm delighted that my dream has come true. I feel like I'm on a movie set and I'm really excited to be in the city and I'm looking forward to the upcoming days.
"This is the moment I have dreamed of and I'm really excited to perform in front of the fans at the stadium."
Hyoen-gyu becomes the third South Korean players to join the Hoops,after Ki Sung-yeung and Cha Du-ri both enjoyed successful spells with the Glasgow giants in the early 2010s.
The forward is aiming to follow in their title-winning success and reckons he will settle in quickly to his new surroundings with a number of Asian players already part of Postecoglou's squad.
He added: "I'm a very aggressive player who also likes the physical side and I like to score lots of goals. One of my aims is to score a lot of goals and I also have ambitions of winning the league championship.
"Ki Sung-yeung and Cha Du-ri are two of the players I respect the most. I have seen them playing for Celtic and I'm now happy to have the Celtic badge on my chest and to be working with the team on its goals.
"I think they (Asian players) will definitely be helpful because we have common things and as they have successfull adapted here I would also like to do the same."