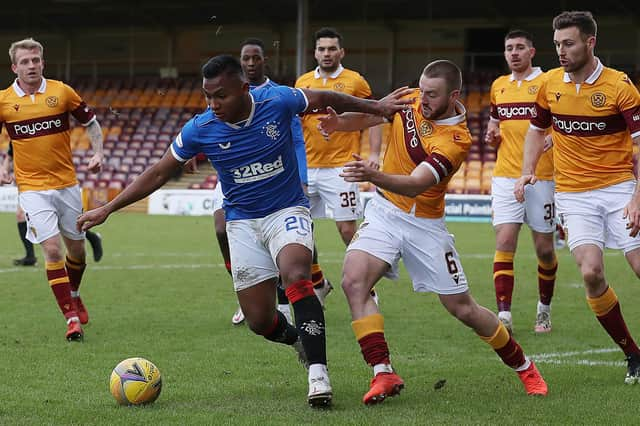 Alfredo Morelos of Rangers vies with Allan Campbell for the ball during their sides' Scottish Premiership match at Fir Park on January 17. (Photo by Ian MacNicol/Getty Images)
The Scotland under-21 midfielder, out of contract at Fir Park in the summer, was much sought after last month and the Steelmen had their mettle tested as they tried to hold on to their brightest young star.
"For me, keeping our best players on board was important," said Alexander.
"We knew there was a possibility of some leaving and we turned down substantial bids for Allan Campbell.
"He's an absolute top professional who just wants to win, and it's the same with Declan Gallagher and Stevie O'Donnell.
"Our best bit of business over January is those boys still being here at the start of February and still being committed. It's brilliant for everybody.
"I sat down with Allan when it was happening and had conversations with him. He's a young player, but he's got real good experience for his age.
"For me, I think he represents what we want to be as a club. We don't want to stand in the way of people's progression and their goals and ambitions of playing at the highest level they can, but our first focus has to be Motherwell. It has to be that.
"The club is the biggest thing, and the biggest thing for us is staying in the Premiership this season.
"Without Allan, that job would have been harder, so I explained my thoughts on it and the club's stance, and his response has been top notch, which I would have expected from a player of his calibre.
"That will hold him in great stead for the rest of his career, and I've no doubt that, at some point, we will lose Allan and he will play at a very high level because he is a very good player, but my first focus right now is doing the best for Motherwell, and Allan understood that and I've not seen one percent of a drop from him or any of the other players, which has been brilliant."
It was a busy transfer window for Alexander as he brought in five new faces in Liam Kelly, Steven Lawless, Sam Foley, Jordan Roberts and Eddie Nolan, also signing loanee Robbie Crawford on a permanent deal until the end of the season and securing O'Donnell until summer after his initial 'Well contract expired last week.