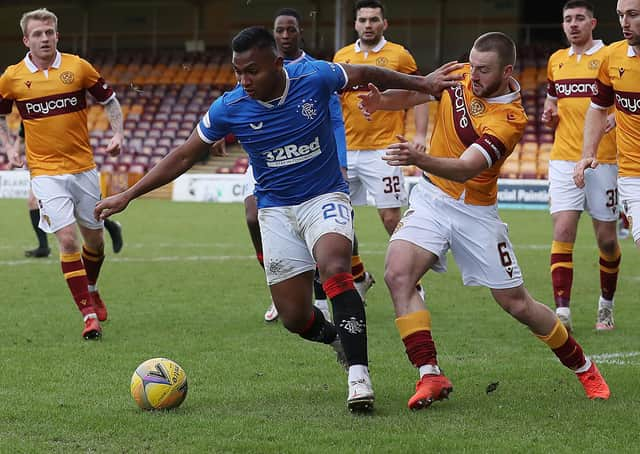 Alfredo Morelos of Rangers vies with Allan Campbell of Motherwell for the ball during their sides' Ladbrokes Scottish Premiership match at Fir Park on January 17. (Photo by Ian MacNicol/Getty Images)
Lucketti, 49, says one of the things that appealed to him and boss Graham Alexander about their new jobs was the youth set-up at 'Well.
They've only been at the North Lanarkshire club for a matter of weeks but already they can see its academy's promise to be a conveyor belt of Premiership prospects for the future, he said.
Citing Glasgow-born Campbell, 22, as a prime example of that potential, he said: "We know it's vital to every club and certainly to Motherwell, with the players that have come through.
"Within two or three days, we could see the young lads that we've got already within the squad that have come from the academy and the potential they have is massive.
"It is important that we help to develop those young lads and give them the best opportunity to have good careers, like everybody wants to do.
"They've got great role models to aim at and aspire to be, and certainly that's the bench-ark for those young lads, looking at the likes of Allan Campbell to say 'that's what I want to be, that's the level'.
"We see Allan, and, in our short time here, you can see why he's as good a player as he is, because of the effort that he puts in, not just on the training pitch but the time he spends before training and after training.
"Those are the traits that allow you to make it to the top of your profession, and he's a great role model for any young lads to look up to."
So far, Alexander and Lucketti have drawn two and lost one of their three games in charge of Motherwell, but they're hoping for they first win at Ross County tonight, January 27.