The Scottish FA and Scottish Professional Football League have vowed to improve the Hampden Park playing surface and "mitigate" the impact of weather ahead of next month's Viaplay Cup Final between Rangers and Celtic.
The Glasgow rivals will go head-to-head at the national stadium on February 26 after edging past Aberdeen and Kilmarnock, respectively at the semi-final stage.
However, the standard of the pitch was severely criticised, with all four Premiership managers raising concerns during their post-match press conferences after the turf began to cut up following a heavy period of rainfall on Saturday.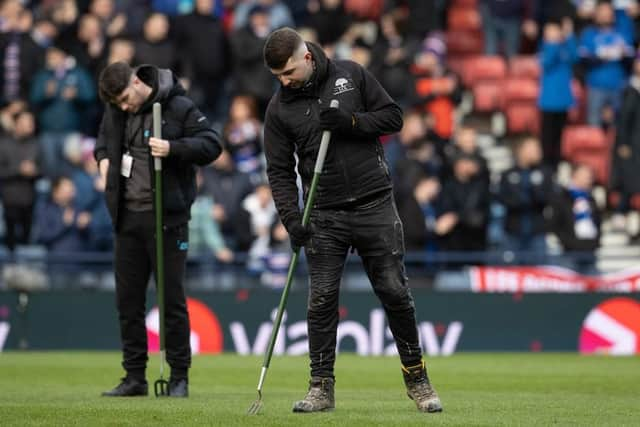 With the cup final on the horizon and Scotland's upcoming Euro 2024 qualifiers against Cyprus and Spain in March, the governing bodies have pledged to take action and confirmed in a statement that "enhanced pitch maintenance provision" is being addressed as a priority.
What did the four managers say?
Celtic boss Ange Postecoglou: "You can't control the weather in Scotland but I'm disappointed in the state of the pitch, I thought it would be better. You know when you come to Hampden it's a showpiece event and you want the conditions to be the best they can be. Even when I asked out before the game, I was disappointed in the pitch. If you're going to have showpiece events when everyone's watching under the spotlight, you want to present it in the best condition.
"For a cup semi-final you want the best conditions possible. It didn't have great grass coverage and didn't hold very well. I went to Motherwell's pitch recently and it was perfect. I would hope it's better for the final. All eyes are on these games and you want them presented in the best possible manner. That presents the whole competition in a good light. I don't know the background to it. Maybe they've had some issues with it, but when you have a venue like this which is designed for big games, you hope it's presented well."
Kilmarnock boss Derek McInnes: "It was a really heavy pitch, particularly difficult conditions out there. I know we've had a lot of rain over the last 48 hours or so but I still thought there was some good football played on it. I've been here before with teams in semi-finals and finals and sometimes the pitch can be a bit questionable. It probably could've been better."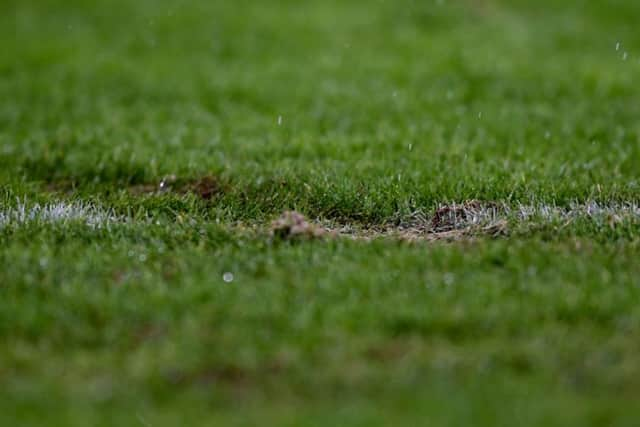 Rangers boss Michael Beale: "The pitch is in a really bad state for what is a showpiece game that players are dreaming of and hoping to get to. We need to have better than that. I know we can't control the weather - do we separate the two weekends? That's for other people to decide but that was a difficult pitch and it will take its toll because we have another game on Wednesday night. Where will the injuries come from playing on a heavy pitch and the heavy legs to go again on Wednesday? We've got a good product, but we need to present it in the right way."
Aberdeen boss Jim Goodwin: "The problem you've got as a manager of the losing side when you start talking about the pitch then it looks as if you're making excuses but I'm not doing that. The pitch, for me and the players, was a major disappointment. We talked about it in the build up to the game earlier in the week about how it would be nice to play on a good pitch at this time of year because there hasn't been a great deal of football played here in previous months. I know their was torrential rain but the national stadium pitch should have a bit more resilience than that to end up in the condition it has today. I don't think it suited either team."
How have the SFA and SPFL responded?
A joint statement released by the organisations read: "The Scottish FA and Scottish Professional Football League have today (Monday) discussed ways in which we can mitigate the ongoing inclement weather to optimise the playing surface for the Viaplay Cup Final next month and forthcoming international matches at Hampden Park.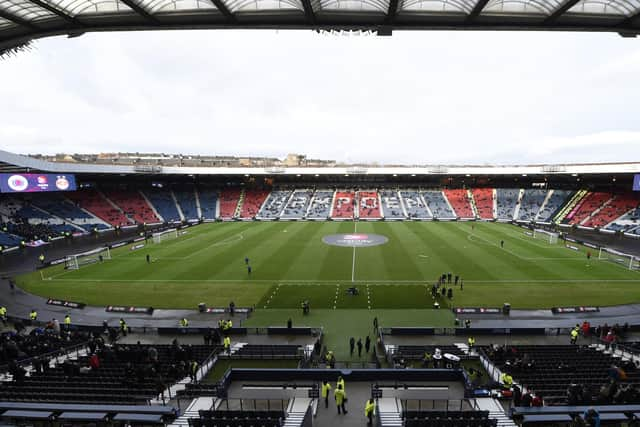 "The inclement weather conditions, allied to the fixture schedule being dictated by a winter World Cup, contributed to the underfoot conditions during two otherwise exciting and entertaining semi-final ties.
"Whilst significant work was completed in late October, enhanced pitch maintenance provision is being investigated as a priority, to ensure the best possible surface is available for the remainder of the season, notwithstanding the sustained forecast for more rain and challenging weather conditions."