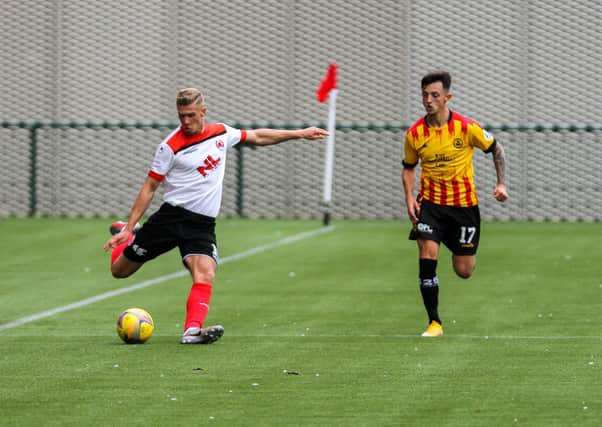 And he reckons the playing surface at Broadwood can play a massive part in helping them achieve that.
Clyde were frustrated on Saturday when their game at Dumbarton was called off because of a waterlogged pitch.
But Danny Lennon's side are back on their own artificial surface this Saturday when they welcome Peterhead - and the 23-year-old defender can't wait.
He joked: "Two games in and we've got a waterlogged pitch. What chance have you got?
"It is what it is but it was frustrating. We'd waited so long for competitive action and got a good taste against Partick so it was annoying but we move on.
"We had a good week training and all the lads were buzzing from the week before against Partick and looking to keep the momentum up.
"But we still have that confidence going into the game against Peterhead to keep the form going.
"We're at home and I feel our home record's going to be an important part of our season if we can make it a really hard place for teams to come.
"We've got a real confidence, we know we can play football there and don't have to worry about a poor grass surface or whatever.
"We are always confident every time it's a home game, no matter who we're playing, that we can get a result."
Artificial surfaces up and down the country are met with varying degrees of criticism, but the one at Broadwood is reckoned to be among the best around.
Jim McInally, manager of Saturday's visitors Peterhead, said earlier this week that it was always good to go there to play.
And Lang is of the same opinion.
"It's really important for us because Danny has got us playing good football and we do like to play out from the back. Sometimes you go to other pitches and, without being disrespectful to some teams, it is hard to play football on them.
"But we know what to expect every home game and can do what we want to do with the ball. It does suit us as a team and teams struggle to play against us when we get into our game."
Peterhead will arrive at Broadwood bottom of the League 1 table, the only side yet to get a point.
Last season Clyde did well against teams near the top of the standings but often struggled against sides at the other end, something Lang says they must look to improve.
"Consistency is the most important thing for the whole season," he said. "You can't turn up just for Falkirk and Partick Thistle and beat them and lose to Dumbarton or whoever.
"We need to get that sorted out straight away and a good indicator will be on Saturday. Hopefully we can get the three points and move on from there.
"We should be able to beat anyone on our day, it's just about keeping the focus on every single game and making sure we're always ready.
"With the shorter season it's so important to start well. We had a great start and that's why it was even more frustrating the game was called off on Saturday.
"It's really important to start well and get as many points on the table as soon as possible so that you're looking up the way rather than at what's around you."
Lang also feels right at home at Broadwood in more ways than one, now technically in his third spell at the club. He was Lennon's first signing as Bully Wee manager and after leaving to join Dunfermline in 2019 following the promotion campaign, he rejoined on loan in January.
Coronavirus cut the campaign short but Lang is now back on a permanent basis, having signed a one-year deal at the start of October.
He admitted: "I'm delighted, I knew I would be.
"I obviously know everyone well at the club and it was an easy decision to make - a short season, go and enjoy my football, show what I'm about and do the best I can for Clyde.
"So far it's been great, I'm really enjoying it and long may that continue and we can have a successful season hopefully."