We spoke with the cast of the new Winnie the Pooh slasher flick 'Blood and Honey' at the movies UK premiere at Glasgow Film Festival
The film only got a 4% rating on Rotten Tomatoes. Oh bother - here's what the actors had to say about the production process
Watch more of our videos on Shots!
and live on Freeview channel 276
Visit Shots! now
GlasgowWorld was invited to Glasgow Film Theatre for the UK premiere of the new Winnie the Pooh slasher film 'Blood and Honey' as part of Glasgow Film Festival - where we got the chance to speak to some of the stars of the cast.
Premiering for the first time to UK audience's in the GFT on Friday at 9pm, we caught up with Blood and Honey's cast before they went in for the showcase.
On the Rose Street red carpet we met Craig David-Dowsett from Essex who plays Winnie the Pooh, Nikolai Leon, a London-born Ukrainian who plays Christopher Robin, and Amber Doig-Thorne from York, who plays the original character of Alice in the film.
The late night premiere was a part of Glasgow Film Festival's 'Fright Fest' which champions new horror films from across the world in Glasgow as part of Glasgow Film Festival.
The production of Blood and Honey was made possible by most of the characters from 100 Acres Wood entering the public domain. This means just about anyone can use the animated characters from the original books in their own project, whether they be commercial, artistic, or otherwise.
This is exactly what director and writer Rhys Frake-Waterfield did with Winnie the Pooh: Blood and Honey when many of the Disney-owned characters went into the public domain back at the start of 2022.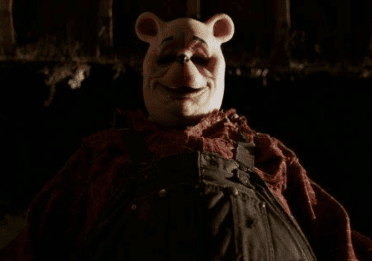 In a dark Toy Story-esque twist on the original A.A Milne tale, Christopher Robin grew up and began to forget about his storybook pals - which led to a famine in the 100 Acre Woods.
Running low on honey, the forest creatures instead opted to eat each other - which includes a rather graphic scene of Winnie and Piglet feasting on their friend Eeyore.
The film opens years later, when Christopher Robin returns to the home of his old pals on a whim, only to discover the grim scene he had left behind - he's promptly kidnapped by a now insane Piglet and Pooh-bear.
The slasher flick then becomes your standard affair for the genre, with a group of unsuspecting young women visiting the woods to take some much-needed time off, only to encounter the crazy bear and pig - you can see where things go from there.
The film was made for less than £100,000 and shot in Ashdown Forest in just 10 days, the actual location that inspired the 100 Acre Woods in the original.
Critics on Rotten Tomatoes were less than impressed with Blood and Honey - giving it a low 4 per cent rating, citing it as being very uncreative, low-budget, and even 'no fun'.
Audience reactions have been a bit more mixed however, with an audience score of exactly 50 per cent on Rotten Tomatoes.
We wanted to see what the actors thought of the film and the production process, so we spoke to them on the red carpet ahead of the film's premiere on Friday, March 10. Here's what they had to say: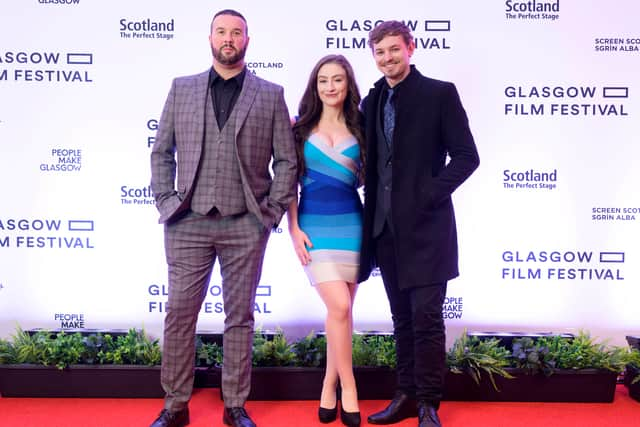 So it was a 10-day filming process is that right?
Amber: Yeah, it was very intense!
Care to share some stories from set?
Amber: One of my favourite memories was seeing Craig in the Winnie the Pooh mask for the first time because when we were filming it was so terrifying. But then in between takes he'd be flossing, like doing the Fortnite dance and stuff - it was just so funny. The difference between seeing him chasing us on set with an axe covered in blood and then after that being like hey guys watch this, then he's flossing away.
So that was a memory I'm going to treasure forever, and yeah he was fantasic and the whole cast was awesome.
How was the shoot?
Craig: It was quite intense yeah, it was long hours and we were up agaisnt the weather on some of the days, especially towards the end...
Amber: And the reshoot oh my goodness
Nikolia: Just like working with some of the weather conditions, working with explosions for the first time and I've never done that before so that was like Michael Bay-levels of Awesome
Wearing the suit on set must have been something, how did you find it?
Craig: Yeah that was great you know, once I put that on and looked in the mirror, I was like... blimey, wow. I'm Winnie the Pooh - let's do this. Let's try and make him as savage as possible, try and put a real scary/horror twist on it.
It's a very unique opportunity getting to play Winnie the Pooh, did you watch the show growing up?
Craig: I did yeah, I loved the originals they're classic. But this is for a different audience who enjoy their good horror/slasher movies and having a bit of fun.
Nikolai: I was more of a scooby-doo kind of guy.
Amber: I was like a massive fan of Pooh, it was really cool because I think so many of us grew up enjoying Pooh as a child but this has defined Winnie the Pooh and all the characters for adults, which I think is sick. It's nice now that there's a new audience that will be able to appreciate the characters.
When you were first asked to audition for a Winnie the Pooh horror film what did you think?
Amber: When I read the synopsis I was like what? Then I read it again and then I realised this a real film, and I was like okay cool. I love Winnie the Pooh and I like horror films so it's a merging of two of my favourite things, so why not? Then I read the script and loved it, I think this is a sick idea, it's really unique when nowadays their's no unique ideas for films anymore. It's a realy special idea
Nikolai: I'm a big fan of a comic book series called Fables by Bill Willingham which is like Fairytale characters living in modern day New York, so its like a darker twist on traditional tales for kids. I've always been a big fan of childhood characters having adifferent twist to them, I've always been fascinated by that.
The film's obviously went quite viral, how have you been finding the reception?
Amber: It's been incredible, personally it's just been positive. I've had people sending me videos of audience reactions all over the world. I have this really cool scene where I have a stand-off with Piglet and in the group chat someone sent in the audience in Mexico cheering and screaming - and I had goosebumps when i watched it, like this is amazing.
But yeah, the fanbase worldwide has just been incredible, and if it wasn't for the fans we wouldn't have had a worldwide release, so we're very grateful.
Nikolai: Like Amber I've been having mostly positive messages and people saying they're really having a funtime with the film so that makes me very happy.
Craig: Yeah I'm really happy with the general reaction, and I think that general fans have enjoyed it