5 Scottish artists on hip-hop that influenced their music
The New York-born genre turns 50 this year.
Watch more of our videos on Shots! 
and live on Freeview channel 276
Visit Shots! now
2023 marks the 50th anniversary of Hip-Hop, a genre of music fashioned by the African American community in the Bronx borough of New York City, with songs originally intended to express anti-drug and anti-violence messaging. Its influence seeped quickly into mainstream culture and has continued to shape identities and societies across the globe. 
This coming Sunday (19 November), the American rapper 50 Cent is returning to Glasgow for the second time this month to perform at the OVO Hydro. In aid of the event here are some takes on hip-hop records by some familiar Scottish artists - albums they not only enjoy but have influenced their own music. 
Terra Kin
BBC Introducing's Act of the Year credits Wu-Tang Clan's Enter the Wu-tang (36 Chambers) with sparking her interest in jazz, a key element of her sound.
"An album that immediately springs to mind is Wu-Tang Clan's Enter the Wu-tang (36 Chambers). My dad has always been a massive Hip-Hop fan and this album is one that I remember being so excited by as a kid.
"My brother and I used to sneakily put it on - mostly to rile up my mum with all the swearing - but also because we loved hearing the samples from old Kung Fu movies. Around the time of discovery we had just gotten into martial arts so having this soundtrack our sparring was the perfect antidote.
"Jazz wasn't something that was played in my house growing up so I can only credit hip hop for sparking that side of my musical journey. Thinking of it now, discovering hip hop has been the most fundamental thing in developing my sound and taste today- thanks dad (sorry mum)."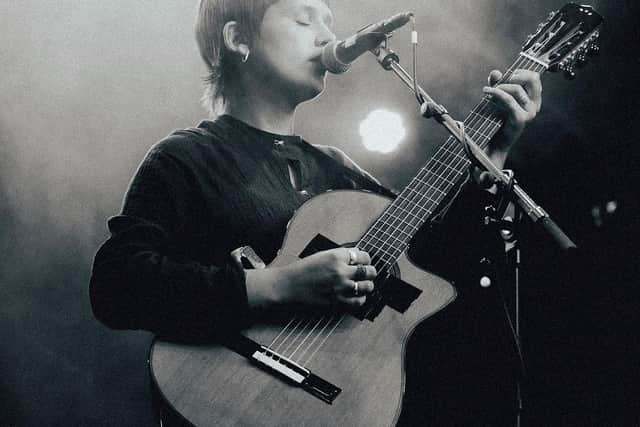 Lamaya
The Scottish/Nigerian rapper, known for her genre-blending sound, was influenced by the rock and grunge elements of XXXTENTACION's 17 and ?.
"These changed the way I viewed Hip-Hop all together. With his rock & grunge elements in his music it's a masterpiece in my eyes. This album is such a period piece for me, it reminds me of a time where life felt fearless, like nothing could touch me which is super ironic because I had found these albums when X had passed away, which showed me the beauty in death. I wouldn't have felt the same inspiration from this album if I hadn't felt the weight of his absence." 
Chef the Rapper
The Aberdeen artist was drawn to the way Isaiah Rashad blended deep southern rap with noir jazz on his album Cilvia Demo and it was this that "planted a seed of creation and exploration" that helped him develop his own sound.   "The album for me is Cilvia Demo by Isaiah Rashad. It was released in 2014 and the album blended deep southern rap - normally hard hitting and grungy - with a noir jazz style.
"It brought together sounds that were not usually mixed and the result was unique and beautiful. The album planted a seed of creation and exploration that took years to flourish but it forever sticks with me and helps me through difficult moments. "
 He also strongly recommends West Savannah & Heavenly Father.
The Lafontaines
Kerr Okan from the Motherwell indie group found inspiration from by Anderson .Paak's blend of hip-hop, R&B and soul on his album Malibu.   "My introduction to Anderson .Paak dates back to our shared tour across the UK and Europe in 2014. Since that time, he has been the benchmark for what I look for in a performer.
"His album 'Malibu' has maintained a permanent spot in my music rotation, no matter the setting - he always seems to hit the right note. This record for me is a masterful marriage of Hip-Hop, R&B, and Soul. It's a beautiful reminder that, no matter what you've endured, you can go anywhere and reach glorious heights. 
"When he rolled into town with his band the Free Nationals on a cold, wet Monday night I remember thinking there was no place I'd rather be in the world at that point. The absence of any photographic evidence from that gig kinda proves my point I think." 
Bemz
The Ayrshire rapper who has become a legend in Glasgow's music scene is a fan of 50 Cent's Get Rich or Die Tryin' and how it continues to resonate with the hip-hop community.   "Get Rich Or Die Tryin' is probably the greatest debut album to date. I was like 9 or 10 when it came out and didn't really have a chance to appreciate it. I just knew it was great. From songs like many men, to 21 questions to don't push me.
"A stacked line up. Then to top it up he gave us in the club, which till this day had everyone in a chokehold. 50 cent is a legend & will always be, for this album to be 20 years and still resonate with the hip hop community just goes to show how great it is. If I can create a body of work that resonates even 10 percent as this has with the community, I would be very happy." 
Tickets for 50 Cent's upcoming Glasgow show are available here. Ice Cube, Cypress Hill and The Game Are also performing at the OVO Hydro on 5 December.