King Tut's booker on Gerry Cinnamon's rapid rise through Scotland's music scene
"But then he's the support artist, it is not normal for a support artist to get that level of crowd reaction."
Watch more of our videos on Shots! 
and live on Freeview channel 276
Visit Shots! now
Glasgow is a city celebrated for its live music scene, a breeding ground for artists at every level. The volume of acts that start out here and then transcend to international acclaim is enormous. However, no other musician has imitated the journey of Gerry Cinnamon - from The Valley of Castlemilk to world tours, all with little promotion bar a post on his personal social media accounts, his acoustic guitar and his harmonica.
He ventured down the traditional route for a Glasgow musician: playing to unfamiliar audiences at open mic nights along Sauchiehall Street, seeking support slots inside local grassroots venues, and taking his acoustic guitar up onto the smaller stages at festivals, experimenting with songs and taking on board their reception.
However, his period of progression from the bottom the the very top of Scotland's music scene is highly unusual, particularly for an independent act. In under a decade he went from being third on a bill at King Tut's to becoming the first Scottish artist to sell out a multi run of shows at Hampden Park.
We sat down with John-Paul Mason who works on live events for DF Concerts at King Tut's Wah Wah Hut. He told us the story of Cinnamon's career trajectory from his perspective: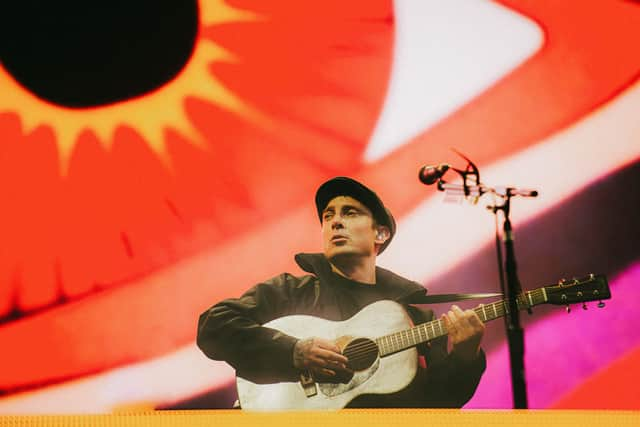 "Gerry Cinnamon, I was aware of him pretty early on when I started working here in 2014. There was one night he played with Raymond Meade who is now in Ocean Colour Scene, who used to be in the Ronelles many years ago. But the bill was Raymond Meade, Gerry and maybe two other artists. What happens at King Tut's is that support artists are given a ticket allocation to sell on their own, which some people frown upon but I think it's actually a good thing, if you make it work for yourself you can actually do better financially out of those gigs than getting a flat fee of £50 say. If you sell 50 tickets and you get a cut of them then you're going to get more money.
"Gerry had 100 tickets to sell and he sold them all, and I remember thinking I wonder if it's going to be a case that all these 100 people will turn up to see him because he's on third in the bill. Sometimes you can sell those tickets to look good, but do the 100 people show up? Well, the 100 people were definitely here and I remember watching his set from beside the stage and obviously it was just him with the pedals, with the acoustic guitar, with the jacket, with the Adidas boots, and he just had the whole place bouncing just by doing the set that he's become known for.
"The crowd were all singing to Give It Up by KC and the Sunshine and they were all singing "Gerry Cinnamon, Cinnamon, Gerry Cinnamon," the whole place was all singing it. But then he's the support artist, it is not normal for a support artist to get that level of crowd reaction, it felt like a headline set and I said that to him as we were walking up the stairs after the gig. I said 'man, you'll be back here to headline' and right enough he was.
"He sold it out, maybe more than once and then he just shot off into the distance. I think he did a Saint Luke's and then an ABC and then Barras 2 and then Barrowlands. Then it was TRNSMT, second or third on the main stage, there's those great shots of him playing and he's got a full crowd and it looks incredible. And then a couple of Hydros - he supported the Courteeners at the Hydro but then he ended up headlining it. And then the two Hampdens last year. I went to one of them and I hadn't seen him live since he played Tut's so my headspace was like 'how is this happening? He's playing to a full national stadium and he's doing the same set I saw him do in here'."