Billy Sloan remembers Glasgow Apollo 50 years on
Today marks 50 years since The Apollo opened at the top of Renfield Street with the venue becoming one of Glasgow's most legendary venues.
Watch more of our videos on Shots! 
and live on Freeview channel 276
Visit Shots! now
Johnny Cash was the first act to perform at the newly renamed venue which had previously been called Green's Playhouse. Other acts who appeared at The Apollo in 1973 included The Rolling Stones, The Kinks, Genesis and Elton John. Hot on the heels of releasing their debut album, a band called Queen made their debut at the venue in November supporting Mott the Hoople.
The venue gave artists the chance to perform in front of one of the most demanding audiences in the world which still has a special place in the hearts of many musicians who performed at the venue. Speaking ahead of his gig at Glasgow Apollo in 1978, David Bowie said: "I started off here about ten years ago or something like that and it has always been a favourite of mine. It's an exceptionally exciting audience to work to. They just seem very intoxicated with the idea of a theatrical show."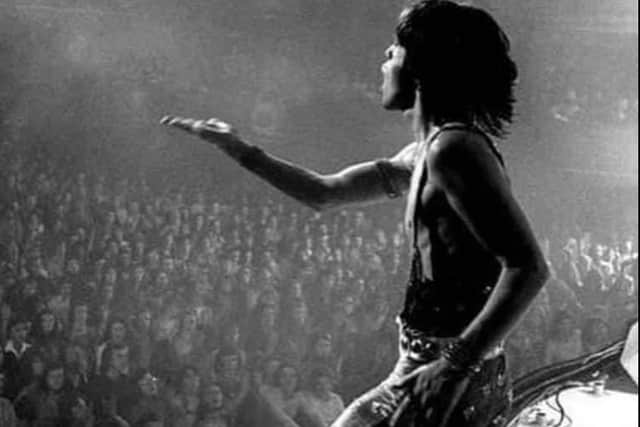 Scottish music journalist Billy Sloan attended many gigs at The Apollo over the years and recently sat down to speak to us about his memories.
"I'd be hard pushed to put it into words. I've been lucky with my work that I've travelled the world and been to some of the biggest and most famous gigs in music history like Live Aid, the Nelson Mandela tributes, Madison Square Garden, Universal Amphitheatre and the Hammersmith Odeon and they are all great venues but they don't hold a candle to The Apollo.
"That's not me being all Glaswegian and sentimental, it was just a fantastic venue. It was the wrong place for a rock concert. It was a cinema, so the stage was about fifteen foot off the ground because it was meant for showing films. If Paul McCartney, Mick Jagger or Roger Daltrey came out and stood at the microphone, they were fifteen feet up in the air looking into the circle."
Sloan still has his own little piece of Apollo history as he told us: "I've actually got a piece of the original carpet. There was a roll up at the back stair and I was pally with the manager who told me to just take it. I had nowhere to keep a roll of carpet so I went up with a Stanley knife one day and I cut two big chunks off. When you put them together, it says 'It's good it's Greens' so I think that must be the only bit of that carpet still left in existence.
"I had so many fantastic times there and so many great experiences there meeting and seeing bands and just being part of that whole Apollo audience. It was a bit like that song New York, New York, "If I can make it there, I'll make it anywhere." The Apollo crowd and audience really knew their music and they could spot a fake a mile away. If you could cut it on that fifteen-foot high stage, you could cut it anywhere and that's why it was such a magical special place."