Scottish beaches awash with discarded PPE
The Marine Conservation Society's Great British Beach Clean took place against the backdrop of the coronavirus pandemic this year.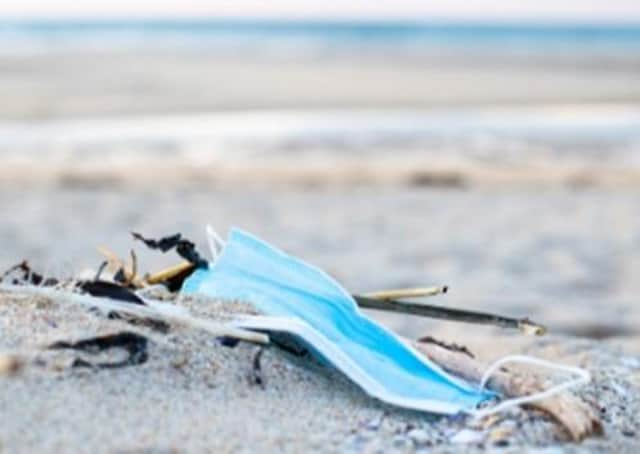 New danger for wildlife...face masks and gloves cannot become part of the new normal in our throwaway society.
As the charity introduced measures to ensure beaches could still be cleaned and surveyed in accordance with guidelines, it also asked volunteers to record masks and plastic gloves for the first time.
Almost 400 volunteers headed to nearly 100 Scottish beaches to clear and survey litter, collecting data which provides an insight into the most common forms of litter blighting Scotland's shores.
This year's results were supported by data collected by volunteers on the charity's Source to Sea Litter Quest.
The results highlight a concerning, but perhaps predictable, presence of PPE litter.
Face masks and gloves were found on almost a quarter of beaches cleaned during the week-long event.
The inland Source to Sea Litter Quest data showed a similarly worrying presence of masks and gloves, with more than two thirds (69 per cent) of litter picks across the UK finding PPE items.
Lizzie Prior, Great British Beach Clean co-ordinator, said: "The amount of PPE our volunteers found on beaches and inland this year is certainly of concern.
"Considering masks were only made mandatory a matter of months ago, the spike in their presence on our shores is worrying.
"While we continue to battle with the ongoing presence of other single-use litter, PPE pollution cannot be part of our new normal."
Like many other single-use items, disposable face masks and gloves pose a threat to wildlife on land and at sea.
Marine animals could mistake them for prey, filling their stomachs with materials which will not break down and could prove to be fatal.
Animals also risk being entangled in face mask straps.
Catherine Gemmell, Scotland conservation officer at the Marine Conservation Society, said: "So much avoidable plastic waste is still being produced and discarded on Scotland's shores, eventually ending up in the ocean.
"Wet wipes, cigarette butts and other plastic single-use items remain prolific."
The top five most common items were plastic and polystyrene pieces, wet wipes, plastic and polystyrene packets, plastic cotton bud sticks and plastic string.