Glasgow weekend weather update: Hot weekend in store as temperature to hit 25° today
The Met office predicts a warm weekend for Glasgow!
Watch more of our videos on Shots! 
and live on Freeview channel 276
Visit Shots! now
Glasgow could be in for a hot weekend as the school summer holidays come to a close next week.
Glasgow weather - Thursday August 10
The temperature in Glasgow today is touted to reach as high as 25 degrees, according to the Met Office.
As hot as it is in the city today, Glaswegians can't expect to see the sun until around 7pm, when the Met predict the sun will peek out from behind the clouds before retreating for an overcast night.
Despite the clouds, it's set to stay around 20 degrees right up until midnight.
The sun will set around 9pm today (9.05pm to be exact).
Glasgow weather - Friday August 11
The sun is set to rise at 5:40am and set at 21:03pm tomorrow.
There's a high chance of rain through the night and early morning - from 3am to 7am - and then a smaller chance of rain (around 40%) later in the afternoon (from 3pm to 4pm).
Glaswegians can expect tempretatures at a peak of 20 degrees from 1pm to 5pm.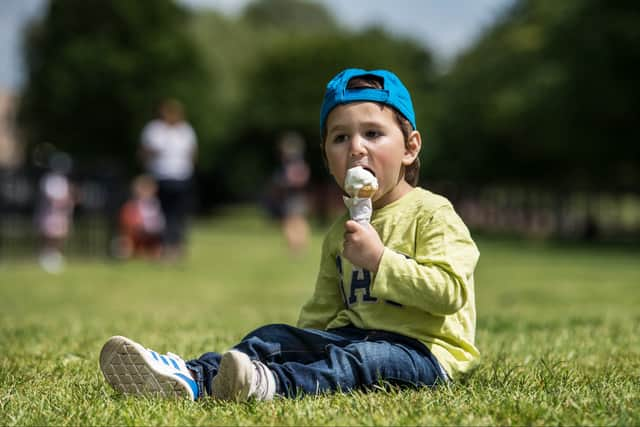 Glasgow weather - Saturday August 12
The sun will rise over Glasgow at 05:42am on Saturday and set at 21.01pm.
It's set to be a rainy one on Saturday - with a high chance of rain from 7am right through until midnight.
Despite the rain, it'll still be warm - sitting around the mid-teens for most of the day with a peak of 19 degrees at 4pm.
Glasgow weather - Sunday August 13
The sun will rise in Glasgow at 05:44am on Sunday and set at 20:58pm.
There's a middling chance of light rain throughout the whole day - with some short breaks to expected from the rain on Sunday.
Despite the rain and the clouds Glaswegians can still expect warm temperatures around the mid-teens, with a peak of 19 degrees at 4pm.