First Review: The harrowing of Lewis Capaldi in stark and insightful Netflix documentary
Lewis Capaldi gives an insight into his inner workings in his new Netflix documentary - with Glasgow playing a starring role.
Watch more of our videos on Shots!
and live on Freeview channel 276
Visit Shots! now
This is not the documentary Lewis Capaldi thought he would be bringing to the world stage when he agreed to let a film crew and director Joe Pearlman into his life.
Standing in front of a small audience at the Everyman Cinema in Princes Square to introduce the movie for the first time, there were moments of honesty amidst the distraction of self-depreciating humour.
As a songwriter, he chooses his words carefully. He described the experience of making the documentary as "harrowing".
Originally this was to be the story of Lewis striding from one performance to another in front of adoring crowds as he made his breakthrough in America. He explains: "I was approached about the film in 2019, things were going well.
"I hadn't really been twitching, I hadn't noticed the twitch that much. My anxiety was kind of under control. I was riding of the back of Somebody You Loved. It had been big and the album had done really well, it had been number one in America.
"I was like, "this documentary is going to be the ******* killer stuff". I had all these massive shows built up for 2020. I thought "I'm going to look the business". Here we go, play these shows.
"Then covid happened and it became this intimate thing."
There were things that Lewis Capaldi did not know were colouring his life. Circumstances have created a much more fascinating, fraught and ultimately uplifting film.
A race against the clock
The tone of the film unravels with subtlety at first. There is forewarning of a star thrust into the spotlight, suddenly more insecure than they have ever been, a record company waiting for the difficult second album.
Glasgow is a secondary character in the film, set between Lewis's parents home and his own flat in the west end. Footage of TRNSMT looks cinematic - I was there for the Capaldi headline gig to mark his arrival as a global success and while it felt like a real moment at the time, seeing it on the big screen was a reminder of the impact.
There's shots of Queen's Park, Finnieston, the Barrowlands and the 226 Gallowgate pub alongside footage from gigs along Sauchiehall Street and other venues from the local scene.
"Ordinary is a remarkable thing", Lewis says over beautifully framed shots of washing lines in Whitburn, frayed saltires and folk having a chat in the street. This is where the film begins.
There's footage of Lewis Capaldi singing Paolo Nutini songs while playing his first guitar in the kitchen of his family home, leading on to clips from his ascent; from bars and small gigs in Glasgow, to arena shows in a frenetic surge driven by the songs on his first album.
At King Tut's in 2017 we see Lewis smile as the crowd sing his songs back to him. His dad says this was the moment he realised what his son would be doing for the rest of his life.
Lewis's parents Mark and Carole are at the heart of the documentary. A superstar marooned in his childhood home by pandemic lockdown, trying to summon songs from the ether in an improvised recording studio in his back garden before cooking dinner with his mum and dad.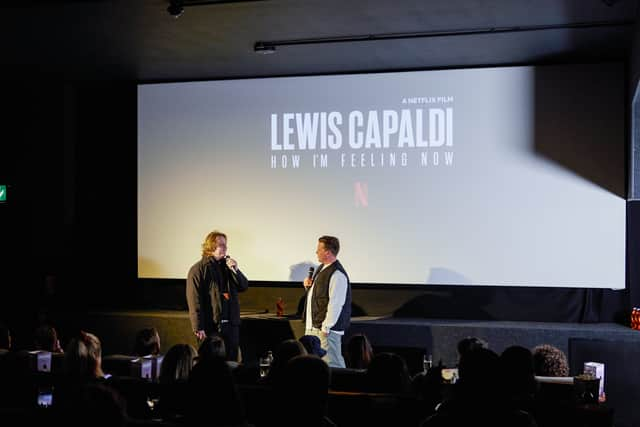 This is where any layers of bravado are discarded and Lewis is himself. There's joy and pride in the road his life has taken yet there's concern and fears for the future. Mark and Carole provide emotional context and give away more than the bold protaganist.
They are also all great fun to watch together, despite the tension beginning to build in the background.
Lewis is back on tour, released to explore the world and to collaborate with other songwriters for the album. He packs his Celtic strip and a bright pair of trainers for a trip to Los Angeles.
He is twitching. His whole body is moving involuntarily. It's exhausting he admits. He doesn't know what is happening to him. His anxiety is growing and there are bleak phone calls in the night to his mum and dad.
The deterioration in his physical state becomes all you can see when you look at Lewis despite the continual one-liners and moments of humour.
This is the point of inflection in the tale and a moment of clarity for Capaldi.
He is diagnosed with Tourette's Syndrome after his parents and his team insist on medical consultation. This is something Lewis has referred to in interviews around the film and has talked about repeatedly since the revelation.
The reality of the condition, captured in the film - he dismissed it as a symptom anxiety which has been soaring as the songs for the second album become more elusive - resonates across the documentary.
This is still a Capaldi show so even at its most raw there's moments of irreverant fun.
"There's a lot of things in this film that are now resolved. And a lot of things that are ongoing. I had therapy today" he told the Glasgow audience at the premiere.
After the diagnosis, a refocused Lewis returns. There's some glorious 'Let Capaldi be Capaldi' moments as the new album suddenly starts to be unleashed. After a purgatory of being told what his songs should sound like and doubting his own abilities he is orchestrating writing sessions and blasting out vocals.
The stage is set for the next chapter of the show.
Lewis Capaldi: How I'm Feeling Now is released on Netflix on 5 April.