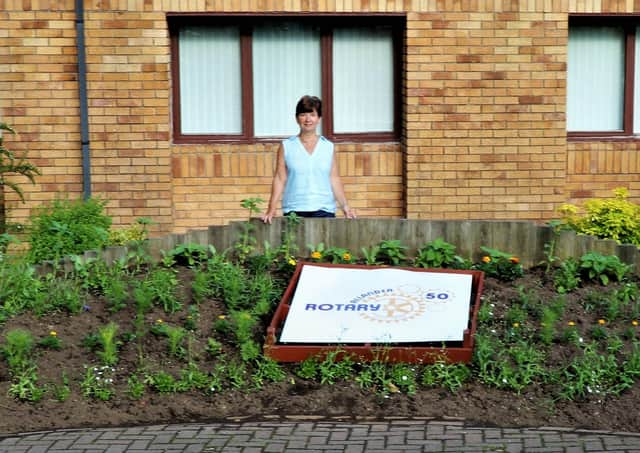 Lynne Gibbons, who is also the organisation's only female member, took over the reins at the beginning of July.
As she took office, Lynne expressed the wish that her year as president would have a positive impact on women, particularly locally.
She said that this year, Allander Rotary will work with East Dunbartonshire Women's Aid (Milngavie and Bearsden), in fundraising, publicity campaigns and any other area where members can offer practical support.
Lynne added: "We've had really positive initial discussions about how Rotary can work with Women's Aid, and I'm very keen to do what 
we can.
"To live in fear of your partner is unimaginable for most of us – so I believe using my year as president to focus on Women's Aid is the right thing for us to do.
"I'm delighed we're also supporting 'Dress for Success' and 'Smalls for All' by operating monthly collections points for donations. Both these organisations support vulnerable women, and by donating unwanted clothing, we can all help, at no cost.
"Our first session is on Saturday, August 1, at Milngavie Youth Centre, from 11am -12.30pm. Thereafter, they will be the same time on the first Saturday of every month."
Like all organisations, Allander Rotary has had to adapt how it operates in light of the Covid-19 pandemic.
Now meeting weekly online, members are using these to connect with other local organisations, inviting representatives to explore common challenges and opportunities, and where possible agreeing joint actions.
Lynne added: "If your organisation would like to be part of this, please get in touch by emailing [email protected]"
Anniversary celebrations have also been put on hold, but helped by Milngavie in Bloom (MiB), the Community Garden outside the Fraser Centre now displays the 50th anniversary logo, in a design created by MiB.