Phil Wang has shared what he most looks forward to when he performs in Scotland ahead of his performance at the Glasgow International Festival.
Phil is most known for his appearances on BBC's Live at the Apollo, Mock the Week and for his infamous yellow jumpsuit during his time on Channel 4's Taskmaster.
The comedian is set to make an appearance at The King's Theatre on 2 April 2023, as part of the Glasgow International Comedy Festival.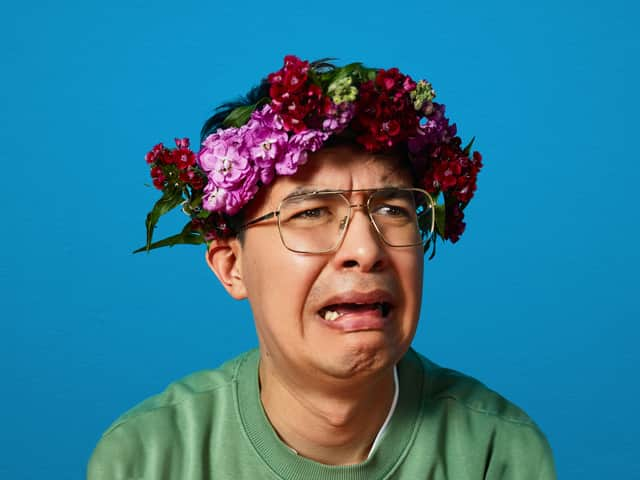 Phil will be performing his show 'Wang In There, Baby' that he has taken across the UK.
Speaking to the Official Glasgow International Comedy Festival Podcast host Scott Agnew in their latest episode, Phil shared what he likes about performing in Glasgow.
Phil Wang said: "I remember my first few gigs at The Stand in Glasgow, and that's such a cool room, I realised that you know, I think Scottish audiences in general are very discerning, right, and I think they've been known as discerning for a while in Glasgow, I think especially a very discerning crowd.
"You don't get polite laughs in the UK in general, speaking of someone who's performed in America, where that is not a concern. In the UK, no one really gives you a fake or polite laugh. And that's especially the case in Glasgow so it feels like if you do get a laugh you it's really worth something. I think that's what I really like about Glaswegian audiences is that the laughs are worth a lot."
Phil also addressed global warming and Scotland in regards to COP26 in 2021 and told the podcast: "London and the South is not built for Summer. You're lucky in Scotland with regards to global warming, because your summers are still tolerable.
"I don't know why COP was in Glasgow, you guys are fine. You know, COPs should have been in my overheated sort of lounge in my tiny flat in London. That's where global warming was really starting to hit."
Phil Wang teased his show 'Wang in There, Baby', saying:"I'm just being goofier, I didn't really sort of build a show around a theme - I just kept doing stand up. And I like writing new material.
"And I just found Oh, I've got an hour of new material. There's a bit about reheating rice. There's a bit about trying to buy a fridge. Sorry, no, trying to buy a sofa and having a fridge. Sorry. Very important difference there."
How to get tickets to Phil Wang's show
Phil Wang will be performing at The King's Theatre as part of the Glasgow International Comedy Festival on Sunday 2 April at 8pm.
The show 'Wang in There, Baby' has received five stars from Time Out Magazine and four stars from The Guardian and The Times.
Who is performing at the Glasgow International Comedy Festival?
The Glasgow International Comedy Festival runs from 15 March to 2 April and boasts a large range of comedians.
Nick Mohammed, Zoe Lyons, Ardal O'Hanlon and The Duncan and Judy Murray Show will all be making appearances at the festival.