The Ibrox midfielder admits the players must shoulder the blame for suffering Hampden heartache at the hands of their biggest rivals as Ange Postecoglou's Hoops ran out 2-1 winners to keep their Treble hopes alive and consign Michael Beale to his first loss as Gers manager.
The Light Blues have failed to beat derby opponents Celtic in three attempts so far this season, crashing to a heavy 4-0 thrashing at Parkhead in September before playing out a 2-2 draw at Ibrox in the New Year's Day showdown.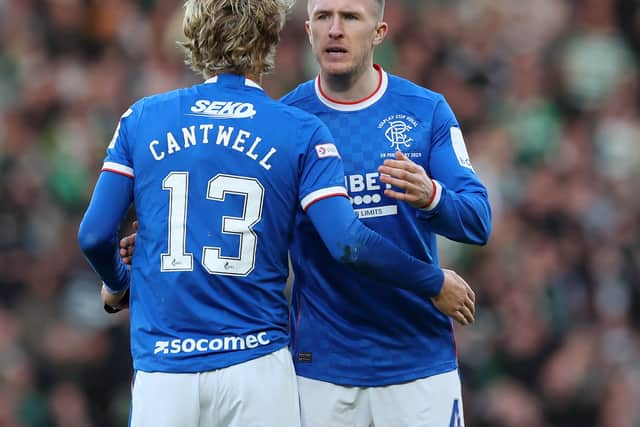 The Englishman, who took accountability for failing to impose himself on the cup final, revealed the squad held an angry inquest into the match to discuss what went wrong at the national stadium and is now fully focused on bouncing back to winning ways this weekend.
Speaking in his press conference ahead of Saturday's Premiership clash against Kilmarnock, the Scouser reflected: "It's just the one game. It was the one game where we didn't turn up, they turn up. I think the combination didn't complement each other well. We didn't turn up, they turned up, so it looks like there is a massive gap.
"I don't think there is a massive gap. It's one game. It looked like that at the weekend but I don't think it is massive. I don't think the gap is massive as one game gets portrayed. All right, they are a few points ahead of us in the league, we've shown we are a really good team as well.
"At the minute, they are a few points ahead of us but we don't think it's massive. We've spoken internally and about where we thought we went wrong and that was on us, not them being 100 per cent better than us. I just thought we weren't ourselves and we didn't get is right. That's on us, not the gaffer.
"It stings but we have to go into the weekend now and get a result. We have to get this out of our system this weekend, we spoke to each other and we know we need to do better. Nobody was angrier and more disappointed than the players. You have to go home and look at yourself.
"I take a lot of responsibility for my performance, I was hugely disappointed and angry with myself and angry with the team, I wasn't as involved in the game as I would have liked, but we've just all got to stick together. We have to stay focused, work hard and try to stay positive which is obviously hard after a poor result."