The Bank of Springburn is open again for business, a pop-up arts hub for the community to relax in and enjoy throughout April 2023 with a programme of leading Glasgow-based entertainment talent.
As part of National Theatre of Scotland's Neighbourhood Project, award-winning poet and theatre-maker Kevin P Gilday will be taking up a residency in a former bank in Springburn Shopping Centre in April 2023. The Bank of Springburn is a community arts space, where everything is free, and the only transactions are 'powered by the people.'
The cultural pop-up will bring people together, acting as a hub for the community where artistic Glaswegians can enjoy a warm, welcoming space as well as joining in on a range of creative workshops, drop-ins and live performances.
The Bank will host free poetry and writing workshops and other special events throughout the month of April including live performances every Saturday afternoon on April 8, April 15, April 22 and April 29, with a host of Glaswegian/Scottish artists loaning their talents to provide free, exceptional local entertainment.
The Bank is also hosting a Poetry Take Away, where visitors can order a bespoke poem, written by Kevin P Gilday, about any subject personal to them, and collect it 30 minutes later.
The first Saturday afternoon offers a cabaret with performance poetry from the award-winning Annalise Broughton, comedy from rising star of Scottish stand-up Christopher Macarthur-Boyd and music from the impressive up and coming emcee Empress. (April 8)
The second Saturday promises a very special opportunity to view Karen Dunbar's School of Rap, a new BBC Scotland documentary film, which sees the comic embark on a unique musical mission to help a group of five elderly women from North Glasgow unearth their inner rap star. The film will be introduced by Karen herself, followed by a Q and A. (April 15)
A musical line up is being served up on the third Saturday with headliners folk singer-songer writer Mima Merrow, and Hunter & McMustard, the popular duo who perform folk music with a social and global consciousness, supported by local acts from Springburn college. (22 April)
On the final Saturday Paul Sweeney MSP and Norry Wilson of Lost Glasgow are returning to the Bank, by popular demand, to give a talk with illuminating insights into the history of the area. (April 29).
There are opportunities also for local community groups and young people who will use the space for workshops and informal performances including Beatroute Arts, Springburn College, Springburn Academy and New Rhythms for Glasgow.
The Bank of Springburn has also been set up to celebrate the rich cultural heritage of this post-industrial working-class community. Stories and memories of the area from community members are welcomed and there will be an opportunity for these to be turned into a podcast during the residency.
Kevin P. Gilday is an award-winning poet, writer and performer from Glasgow. He is the founder of poetry performance collective The Scribbler's Union and was co-founder of much loved spoken word cabaret night Sonnet Youth. He is a National Theatre of Scotland Breakthrough Writer, a BBC Writersroom Scottish Voice and one of Scotland's most celebrated contemporary poets.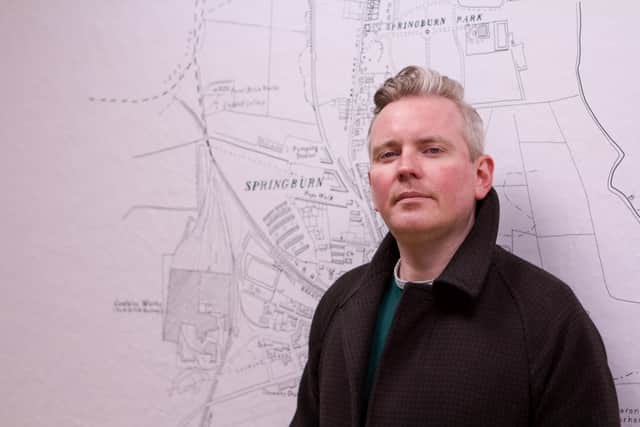 Kevin Gilday said:"The Bank of Springburn is a project about connection. About opening up space in our community and celebrating what makes us unique. As a Springburn resident I wanted to have a space to connect with the amazing community I saw around me in our vibrant neighbourhood, but I also wanted to invite the world to us - to open up the doors to a part of the city that has been cut off and neglected for so long.
"This is an invitation to join us, to create with us, to discover the rich history of one of Glasgow's most important areas.
"I am delighted to welcome a host of amazing artists into the space. Some are talented friends that I have watched grow in stature to become much loved members of Glasgow's artistic community, others are new acts that I have discovered in the past year and desperately wanted to showcase.
"Every one of them will bring something special to the space. This is a diverse and exciting programme that wouldn't be out of place in an esteemed city centre venue."
Gilday is working alongside the National Theatre of Scotland's creative engagement team, and the residency is part of the Neighbourhood Project series.
The Neighbourhood Project is a series of artistic residencies and projects working alongside communities close to the National Theatre of Scotland's facility, Rockvilla, in the North of Glasgow. Since settling in the area, the Company has developed and been involved in several community facing projects and events involving specific groups, artists and local audiences including participation in the annual Canal festival, Glasgow Doors Open Day, Submarine Time Machine, Little Amal and Fly the Flag.
The Neighbourhood Project offers opportunities for collaboration and partnerships and for National Theatre of Scotland to develop relationships in and around the area.
The Bank of Springburn will be open at Unit 29, Springburn Shopping Centre from April 4 to April 29 2023. The Bank is free to all for drop ins.