Last Night from Glasgow: Meet the city's socialist not-for-profit record label offering fair pay for artists
'The entire industry is based on labels exploiting musicians, their last point of concern is musicians making money - we're trying to change that.'
Watch more of our videos on Shots!
and live on Freeview channel 276
Visit Shots! now
Tucked away in the Hidden Lane in Finnieston - in a small upstairs unit that's remarkably blue - lies the headquarters of a Glaswegian record label that's operating under a revolutionary business model.
Last Night from Glasgow has been active in the city's music scene since 2016, taking its name from the line about Glasgow in ABBA's 1980 single, Super Trouper:
I was sick and tired of everything, when I called you last night from Glasgow
Sick and tired of everything describes the mentality of record label founder, Ian Smith, quite well at the time he set up the business. Fed up with traditional record labels exploiting artists for profit, Ian sought to trailblaze a new not-for-profit business model that would pay artists fairly for their work.
The independent Glasgow label focuses primarily on supporting unsigned artists with the release, manufacture, and promotion of their music - free from the usual restrictive contracts that young artists on the local music scene often have no other choice but to sign. All artists that release music with Last Night from Glasgow retain all intellectual rights to their music, and are paid fairly for their work.
It's not just new, unsigned artists that the label supports however. Past Night from Glasgow is the label's retroactive publishing project, supporting Scottish artist reissue albums from their back catalogue, that they wouldn't have been able re-release otherwise - as traditional record labels wouldn't reissue an album unless there's a guaranteed profit.
Profit is not on the forefront of Last Night from Glasgow's agenda though, if the music and the artist are good, they'll go for it. Their biggest success story from the project was the reissue of 80's New Wave band, The Bluebells - you'll recognise the band from their 1984 hit single 'Young at Heart' - which featured on their album 'Sisters' reissued by Past Night from Glasgow in 2020.
The label operates under a 'patronage model' meaning music fans are able to crowdfund grassroots Scottish artists by paying a monthly subscription to the record label. Last Night from Glasgow isn't getting money for nothing though - the yearly membership fee ranges from £90 to £135 - and in addition to helping support Scottish artists, the membership also bags you anywhere from 8 -14 LPs from bands assigned to the record label, depending on the tier of subscription.
All profits generated by artists releases go towards the objectives of the label - reinvested back into the labels bands and projects after the artist has been paid a fair wage for their work.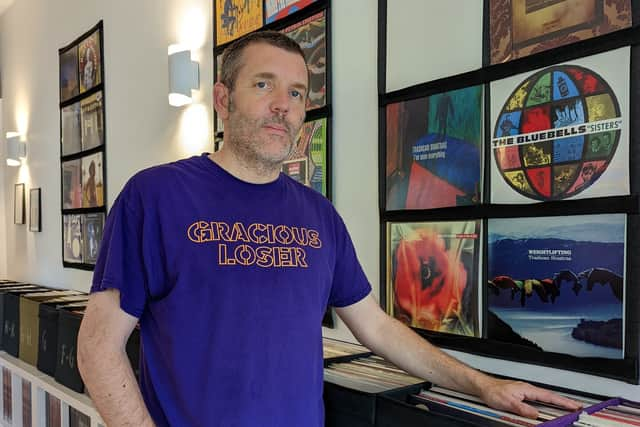 Speaking about his business model, founder of Last Night from Glasgow, Ian Smith, said: "The label operates essentially like a non-profit organisation. We're not running to generate profits for the owners of the label.
"We started up because we wanted to generate profits for artists who make the music industry possible. The reason for that is 99 per cent of the music industry doesn't care about musicians, they only care about exploiting them - the entire industry is based on labels exploiting musicians, their last point of concern is musicians making money - we're trying to change that.
"Our creators are fairly represented - and that's possible through the label's subscription-based membership element. Lovers of music can become a 'patron' in return for access to the all of the label's releases.
"All money generated goes towards manufacturing, promoting, and plugging new music.
"For the traditional record label, if they're spending a million pounds on an artist like Beyonce, they're expecting that money back, with interest.
"For us, we're spending 5 grand on artist who then owe us nothing, we're not asking to be paid back - it's a complete reversal."
The record label was founded back in 2016, opening the Hidden Lane shop initially as a headquarters, warehouse, distribution centre, and office for in May of 2021, all of which were previously based out of Ian Smith's home. It expanded as they began to sell LPs from artists from the Last Night from Glasgow label, which proved popular enough to begin selling LPs from other popular artists, like Blur, ABBA, Oasis and The Beatles in September of 2021.
Despite their success as a wee record shop in the Hidden Lane, the not-for-profit business remains a label first and foremost. In addition to the Last Night from Glasgow & Past Night from Glasgow - the record label also runs a third publishing project, Komponist, which releases alternative music that's entirely commercially univiable. It essentially publishes artists and tracks that would have no chance to get published by a traditional record label, but nonetheless present avant-garde and demonstrably interesting music.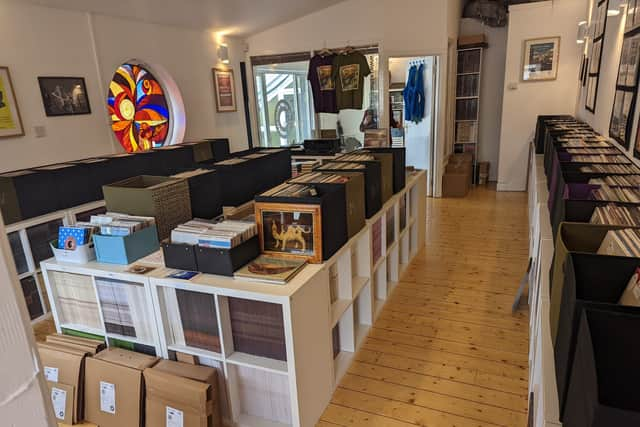 Speaking more about the thought process and ideals that go into Last Night from Glasgow, Ian Smith said:"I'm a socialist, I believe people should be looked after and not exploited. Most in the music industry look to exploit rather than support.
When asked we he started Last Night from Glasgow, Ian said:"Why does anything do anything? If I look back and reflect I'd probably say I was bored in my career and I was of an age where I had more disposable income and spare time.
"To get very political I was deeply p*ssed off that Scotland hadn't went for independence, and that we'd be stuck in this cr*phole of a union for god knows how long. It made me want to do something constructive and give something back.
"You sit up at night thinking you might do something, you imagine or dream about doing something, and what makes that happen is finally giving a voice to that.
"I started saying to friends in 2015 that I had an idea for a record label, that got the ball rolling to the point where all we had to do was raise £10k which would allow us to set up the label, manufacture some releases, sort some promotion and give a few hundred quid to some unsigned artists each.
"Things kept expanding and expanding, to the point now where we've been doubling in size every year, worked with over 100 artists, and a half a million pound turnover.
"There's no doubt consistency of message is important to the label, the things we we'd never do, we've never done. We set out believing that fair play is fair pay, and we've never abandoned that - we stay true to the things we stand by, and there's no doubt we could have grown quicker if we abandoned those principles.
"The patronage model generates around 10 per cent of our income - most of our cashflow comes from people buying the LPs from our label.
"We make sure to find new exciting bands so we can issue good quality releases from the past or present that excite people. We're not commercial, we don't pursue profits, we just put money into grassroots talent.
"We're still doing the same thing today as we were seven years ago, now we're just three people doing it full time - as opposed to just myself working in my spare time back in 2016.
"We're not trying to grow, and that should show the industry that it doesn't need to be this way, every promoter could pay artists more money but they're only interested in hosting unpaid concerts for artists just to get people in buying pints. It doesn't have be like that but it is.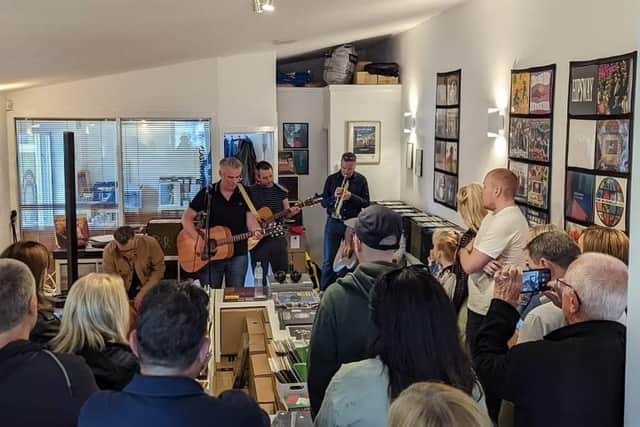 Over the past seven years Last Night from Glasgow have released around 160 vinyl records, signed over 100 artists, and grew from a budget of £10k to £500k by doing one simple thing that should be self-evident; not exploiting artists.