Glasgow litter fears over scrapped bottle return scheme
The scheme in Scotland has been delayed until October 2025
Watch more of our videos on Shots! 
and live on Freeview channel 276
Visit Shots! now
There will be two million more cans and bottles littered on Glasgow's streets as a result of the delay in Scotland's container recycling programme, local councillors have claimed.
The deposit return scheme, which would see customers buying certain drinks and getting a deposit back for bringing back containers, has been held up until 2025 after the UK Government said glass should not be included. Glasgow council is to write to the UK Government demanding how it will help with the problem of broken glass in the city after the material was excluded from the proposed deposit return scheme (DRS).
Speaking at the Glasgow full council meeting last week, Scottish Greens councillor Jon Molyneux asked: "Broken glass is obviously a serious public and animal safety risk. It also jeopardises efforts this council is taking to promote active travel. Will the convenor write to the UK Government asking how they now intend to support the council to deal with this unacceptable problem, which would have been greatly reduced by Scotland's DRS." SNP councillor Ruairi Kelly agreed he would write to the UK Government at the meeting.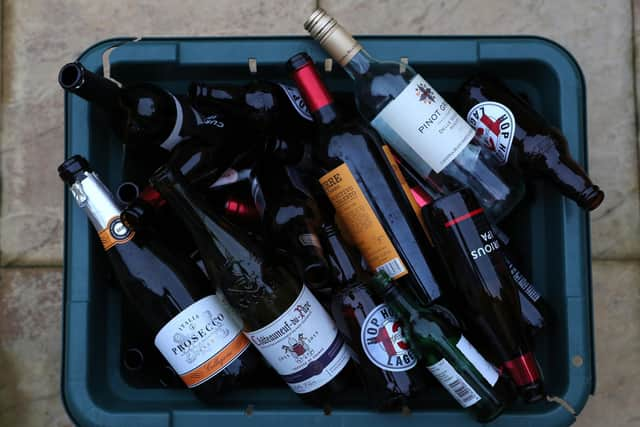 Councillor Molyneux also asked "what estimate has been made of the number of bottles and cans which could end up as litter, and the direct cost to the council of having to deal with this, as a result of the delay to Scotland's deposit return scheme, after it was sabotaged at the eleventh hour by the UK Government?"
Councillor Kelly said: "I can tell you that Zero Waste Scotland estimates that almost a quarter (that is by weight) of the litter in Scotland is made up of waste streams within the scope of the intended deposit return scheme."The convenor for neighbourhood, services and assets said plastic bottles and glass represented about nine per cent each of the waste while metal cans were equivalent to four per cent.
He added that a Zero Waste Scotland report highlighted "that the implementation of a DRS scheme would have the potential to reduce the amount of littering of these items and significantly improve the quality of the city environment. It is however difficult to estimate the impact on operational costs for the council as sustained street cleaning activities would still be required due to the littering of other materials and that would continue to require to be managed."
After the meeting the Glasgow Scottish Greens group said there would be two million more cans and bottles littered on Glasgow's streets due to the delay of the DRS scheme based on Zero Waste Scotland estimates.