Lewis Capaldi's 'Haven't You Ever Been in Love Before' video helps children's charity fundraiser to surpass goal
 Lewis Capaldi's music video 'Haven't You Ever Been in Love Before' surpasses its fundraising goal
Watch more of our videos on Shots! 
and live on Freeview channel 276
Visit Shots! now
Lewis Capaldi has helped to raise almost £30,000 towards a fundraiser for children's toys after featuring the manufacturer in his latest music video. The singer, 26, from Glasgow, put a spotlight on The 3D ToyShop in his video for 'Haven't You Ever Been in Love Before'.
The charity was started by Nick Hardman from Leeds. The 3D printing hobbyist launched a fundraiser in the hopes of raising  to  just £10,000 and awareness of his charity, so that he could continue to make toys for children with medical issues.
Since Lewis' new video landed on YouTube and social media in late May, Nick's GoFundMe has surpassed its goal of raising £10,000 and is approaching £30,000. Lewis' video, labelled as 'Nick's Story' shows Nick at his home producing 3D replicas of medical devices such as feeding tubes, hearing aids and prosthetics which will be attached to each toy. The 3D Toy Shop creates unique toys for each child so that they then have a "friend" with the same medical issues as they have.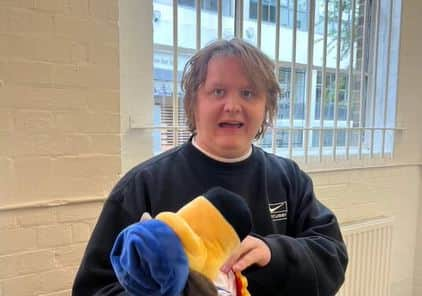 Lewis' music video also features the volunteers who stitch the items onto the bears and stuffed toys. As a thank you for being involved in the inspiring project, Nick made a special "friend" teddy for Lewis and shared it on his TikTok. The teddy comes complete with guitar, microphone and even a tic monitor to help Lewis manage his Tourettes.
Nick said: "He's going to love it. That is actually his guitar as I googled it. He's got tics and he's got the T-shirt and he's going to love it". At the end of the reel is a touching snap of Lewis delighted with his unique gift.
Followers were quick to commend Lewis for raising awareness about this inspirational project. One said: "Thank you @Lewis Capaldi for your video! We hope you like your tourettes teddy! 🥰" Another added: "@Lewis Capaldi your amazing and special young man."
As a single dad and 3D printing hobbyist, Nick discovered a unique way to make a difference in the lives of children facing adversity. Through this remarkable project he has touched the hearts of countless kids around the world. During Covid 19, Nick decided to utilise his 3D printing skills and began producing personal protective equipment to support frontline workers battling the virus. After seeing the positive impact his creations were having on society he decided to broaden his horizons and create something that would help children too.
Nick and his team create toys that don't exist anywhere else, providing children experiencing challenging times with companions that reflect their own experiences. From miniature pacemakers to tiny tracheostomies, these custom-made teddy bears become sources of comfort and solace for children undergoing difficult medical journeys. Nick  has sent over 3,000 teddy bears to children all over the world and with Lewis' help will be able to continue this.