UK Heatwave: Weather hotter today in Glasgow than Benidorm, as thunderstorms roll in this weekend
Watch more of our videos on Shots! 
and live on Freeview channel 276
Visit Shots! now
Glasgow has been basking in the sun so far this month as Scotland and the rest of the UK enjoys a summer heatwave.
It's so hot in fact, that tempratures in our fair city are reaching peaks that are higher than Benidorm's!
It's most certainly taps aff weather - all you need to do is walk about town and that'll quickly become self-evident.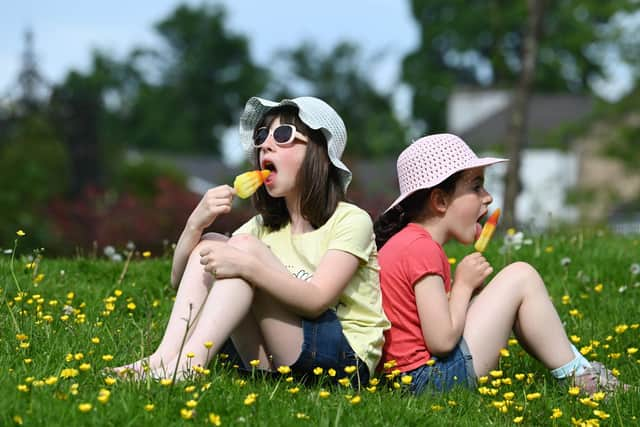 Today: Wednesday, June 14 - hotter than Benidorm!
Weather in Glasgow: Clear skies with a peak of 27 degrees at 5pm.
Weather in Benidorm: A cloudy morning into a clear afternoon with a peak of 25 degrees at 5pm.
Tomorrow: Thursday, June 15
Weather in Glasgow: Clear skies all day with a peak of 25 degrees from 2pm till 4pm
Weather in Benidorm: Clear skies all day with a peak of 27 degrees from 2pm through till 6pm
Friday, June 16
Weather in Glasgow: A clear morning into a cloudy late afternoon and evening with a peak temprature of 24 degrees from 1pm through till 4pm
Weather in Benidorm: Clear skies with a cloudy evening and a peak of 28 degrees around 2pm
Saturday, June 17
Weather in Glasgow: Saturday's looking a bit dreich with a high chance of a thunderstorm in the early afternoon around 1pm with a peak temprature of 23 degrees
Weather in Benidorm: Clear skies and a cloudy night in Benidorm with a peak temprature of 28 degrees
Sunday, June 18
Weather in Glasgow: A mild chance of a rainy afternoon and evening from 1pm going forward after a cloudy morning with a peak of 22 degrees from 1pm until 7pm
Weather in Benidorm: A cloudy day in Benidorm with a peak temprature of 26 degrees from 2pm until 5pm
Monday, June 19
Weather in Glasgow: A cloudy day with a moderate chance of rain in the afternoon - peak tempratures of 21 degrees from 1pm until 4pm
Weather in Benidorm: A cloudy day in Benidorm with a peak temprature of 26 degrees at 5pm
Tuesday, June 20
Weather in Glasgow: A peak of 21 degrees in the afternoon from 1pm until 4pm with a high chance of rain throughout a cloudy day
Weather in Benidorm: A peak of 27 degrees at 2pm on a sunny day in Benidorm