At the peak of his career in 1997, Charlie Sheen spent a few nights out in Glasgow - far from the bright lights of Hollywood or the sandy beaches of Miami where he was brought up.
Over a quarter of a century ago now, the celebrity that featured in Platoon, Ferris Bueller's Day Off, and Two and a Half Men would spend a few nights in Glasgow while filming for the 1998 film, Obit (released as Postmortem in the US). It was in our fair city of Glasgow that Sheen, who was worth near $100 million dollars at the time, would get embroiled in one of the biggest scandals of his careers, of which there has been many.
It was after filming that Charlie would travel to Archaos (gone but not forgotten), the popular city centre nightclub - where the American actor allegedly spent over a thousand pounds on booze at the club's VIP lounge. Wearing his trademark Hawaiian shirt and baseball cap, and already hopped up on a cocktail of drugs - Sheen left the club with a friend at around 2am to find a sex worker and some cocaine to keep the night going long past closing hours.
The actor would stop one woman in the street, Lorraine Brown, asking her to find him some gear while shoving money into her hands. She told the Daily Record later that year: "I've seen all his movies and used to have his pictures on my bedroom walls.
"He asked me to go back to the Hilton with him and I agreed. But once we got into the taxi he asked if I could get him some cocaine.
"He was really out-of-his-head drunk, but very funny. He didn't really care that we were taking him to Easterhouse in the middle of the night. He looked around when he got there and said it was like the Bronx."
Initially the woman, accompanied by her boyfriend, was given £300 by Charlie to source the drugs, being promised three times the amount once he had the drugs in hand. It was thereafter that she joined Sheen with her boyfriend to travel to Easterhouse. All in all Sheen paid £1200 for the drugs and a few hundred more dollars he threw at the couple while ranting about getting gear as soon as possible.
Her boyfriend also spoke with the Daily Record 13 years later in 2010, revealing that a kidnapping plot had been hatched at the Easterhouse gaff, he said:"I phoned a dealer in Easterhouse and he told me it wouldn't be a problem. But I stupidly told him who the customer was and that set off the jungle drums.
"When Lorraine and I went up to the house we discovered that there was no drugs - just a house full of nutcases who were already high.
"They wanted to get Charlie out the taxi and tie him up.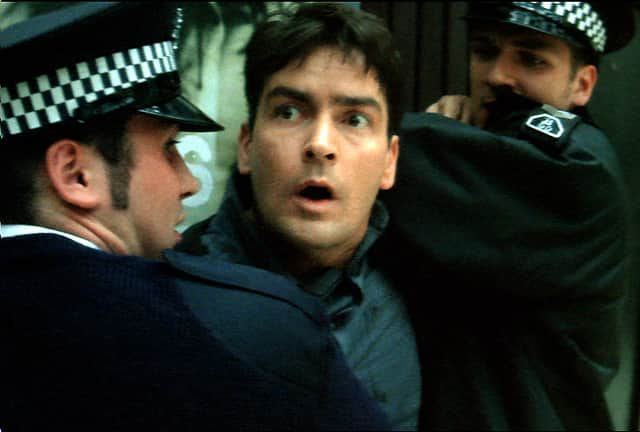 "Lorraine and I just wanted to earn a few quid. We both had a drug problem and didn't give a damn who Charlie Sheen was - we just wanted the cash.
"It was then we decided to mix sugar and speed and pretend it was cocaine.
"We acted fast because the guys in the house were building up the courage to go down and kidnap him.
"No one in the room was thinking straight. Every single one of those guys had been in prison before and had been taking drugs.
"If one of them had made the first move then the rest would've followed. We just ran down and jumped back in the taxi and got out of there."
The boyfriend of Brown would also claim that Sheen asked him to get him a gun - after being ripped off in several drug deals throughout the night, and that the actor claimed to have been sniffing and drinking with Rangers legend Paul Gascoigne in the club, although this wasn't confirmed . Relatively unharmed and now a few thousand dollars / pounds out of pocket - the actor would travel to a 24/7 shop open on Argyle Street at the time - hoping to buy some tinfoil and baking soda to make crack cocaine, as well as some biscuits apparently.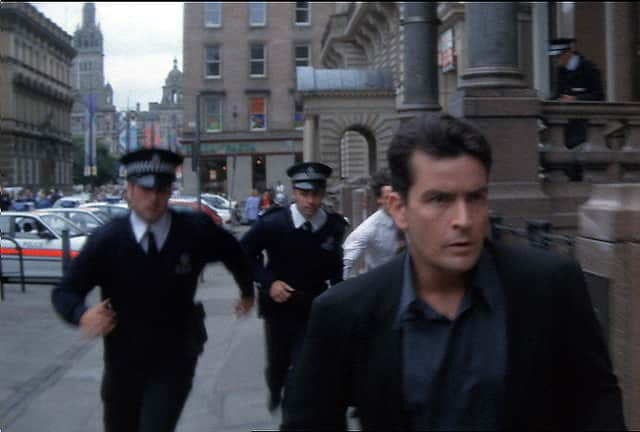 The shop assistant told the Daily Record:"He walked in at around 3am and helped himself to a packet of biscuits. I told him to just pay for them and that would be the end of it.
"Then he said: 'Hey man, who the f*** do you think you are?'"
The shop worker, unlike other intoxicated ne'er-do-wells in Glasgow's clubbing scene in the late 90's, refused to take US Dollars, which only annoyed the entitled actor - who was now hyper on a mixture of speed and sugar.The shop assistant continued telling The Record: "Then he threw down his credit card and said: 'F*** you, man. Where we come from we kick s*** out of guys like you.""He apologised and shook my hand, then said he wanted more stuff and asked me to help him. He told me wanted tinfoil, baking soda and a metal teaspoon."
While we can't confirm if Charlie Sheen can even feel embarassed, that's one night on the sauce that would give the devil a red-neck. A few short days later, the actor was flown back to Los Angeles, where he continued his career, never again to face another controversy (he would in fact face dozens more very public controversies).